Everything You Need to Know to Build a Return to Work Plan
On our pre-recorded webinar legal, leadership, and safety experts team up to equip you with a comprehensive understanding of every aspect of an effective return to work strategy during COVID-19.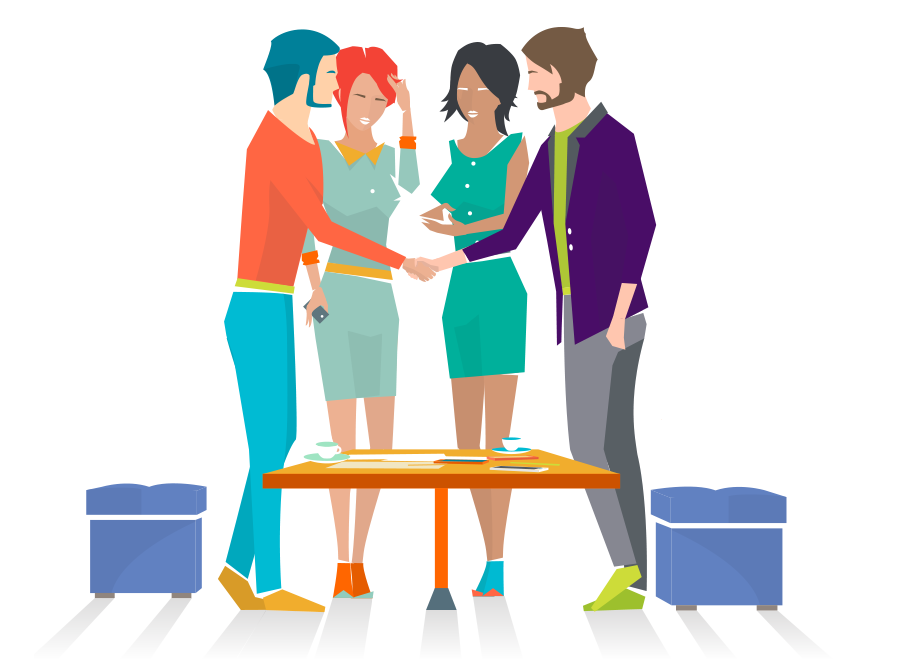 Coronavirus Resource Center
 As the COVID-19 outbreak continues to evolve, it's important for employers to stay up-to-date on unfolding legislation and critical HR and benefits considerations. Launchways has created a central hub of COVID-19 resource to help business leaders navigate these difficult times.
Are you preparing your business to re-open?
Checkout our Return-to-Work resources below
The Complete Return-to-Work Toolkit: 
How to Bring Your Workforce Back During COVID-19
Our 15-page toolkit includes the templates, checklists, and insights you need to ensure you have every aspect of return-to-work covered.

How to Determine Who Should Return to Work & When


Preparing & Modifying Your Physical Workspace




Protocols for Employee Re-Entry & Health Screenings




Building and Enforcing Social Distancing & COVID-Specific Employee Protocols

How to Address Workforce Anxiety About Returning to Work

Sample Return to Work Survey for Employees




How to Identify & Correctly Update Effected Company Policies

Roadmap for a Return-to-Work Communications Strategy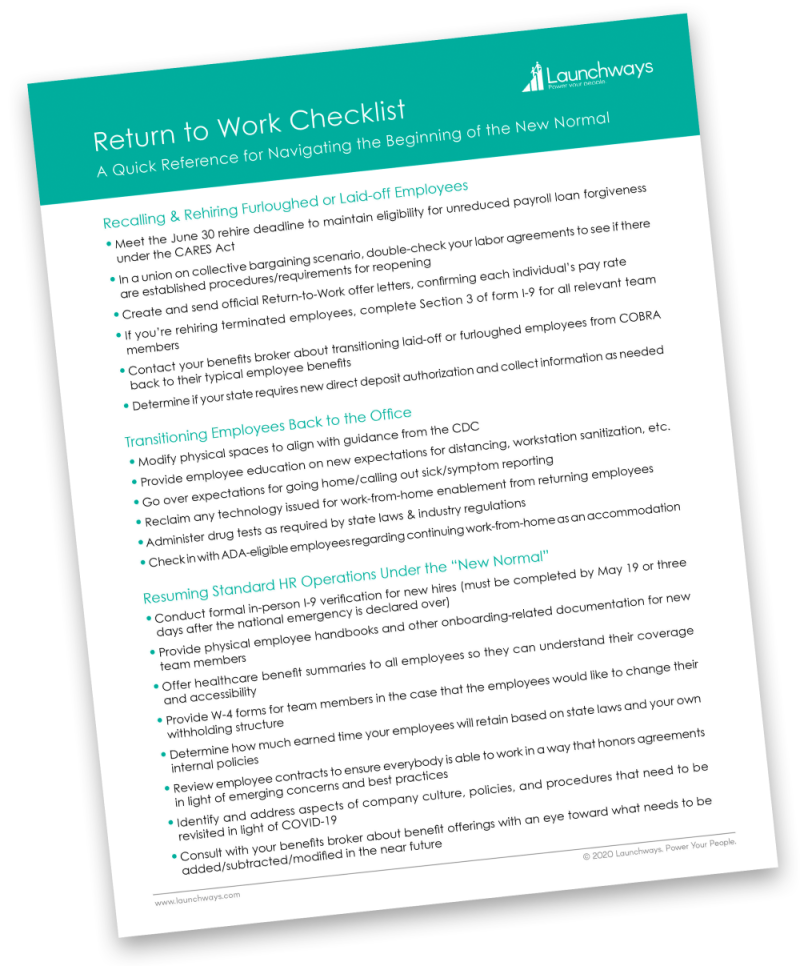 Return to Work Checklist:
What You Need to Know When Bringing Back Furloughed/Laid Off Employees
As businesses begin preparing their return to work strategies, there are many nuances and compliance considerations you must keep in mind when recalling a furloughed or temporarily laid off workforce. This checklist covers what you need to know.
Rehire deadlines and protocols to qualify for the CARES Act loan forgiveness program




Step-by-step considerations for recalling furloughed or laid off employees




Key considerations for transitioning employees back into a physical workspace




How to resume HR operations and ensure your business remains compliant with all local and federal regulation
Return-to-Work Resources on the Launchways Blog
Individuals, economies, and health care systems around the globe have been anxiously waiting for a COVID-19 vaccine. Fortunately, news from the vaccine developers is promising, and most reliable medical professionals agree that a vaccine will become widely available...
read more
Webinar Available to Stream Now
How to Prepare Your Business for New COVID-19 Laws
Learn actionable strategies to prepare your business to handle new COVID-19 employer mandates & how to take advantage of new federal tax credit programs
Questions about Payroll in light of new COVID-19 regulations? Get our Payroll FAQ
In our payroll FAQ learn how to administer payroll in a compliant manner in light of FFCRA and CARES Act legislation.

Families First Coronavirus Response Act
(FFCRA) payroll FAQ


Employee tax relief FAQ

CARES Act employer tax relief FAQ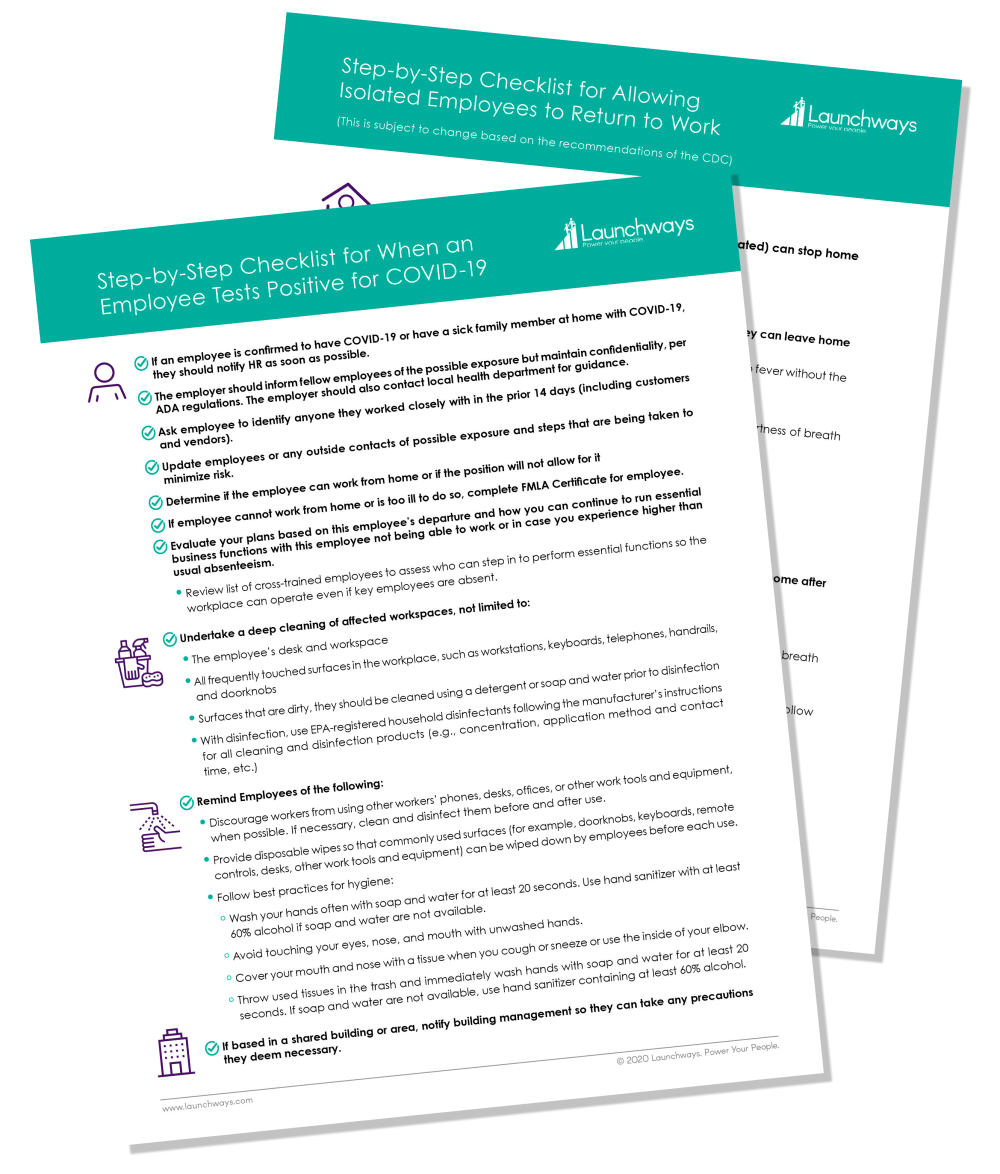 Step-by-Step Checklist for When an Employee Tests Positive for COVID-19
Do you know what to do if one of your employees tests positive for COVID-19? In our new checklist we will show you, step-by-step, what actions you need to take to manage an employee with COVID-19, reduce risk of the infection spreading in your workforce, and how to determine when the employee can return to work. Here's what's included:
Steps to take immediately after being notified an employee is positive for COVID-19
Critical missteps to avoid (such as violating ADA regulations)
How to identify other employees at risk & properly notify them
Proper procedures for a deep-cleaning of affected workspaces
How to determine when an employee can safely return to work without infecting others
Toolkit: How to Help Your Employees Manage Self Isolation During COVID-19
Mandatory stay-at-home orders have forced many people into isolation, which can be mentally difficult. In our new toolkit, we provide actionable resources to help you support a mentally-well workforce during the time of COVID-19.
Here's what the toolkit includes:
Checklist of tools you can provide employees to help them stay physically and mentally well

Actionable strategies to help keep your team members connected, even while working remotely

Tips on how to help employees reduce COVID-19 related stress
US Department of Labor Issues Guidance on 

the Families First Coronavirus Response Act (FFCRA)
Families First Coronavirus Response Act Flowchart
Launchways is offering a comprehensive flowchart outlining FMLA & Paid Sick Leave changes in light of the new COVID-19 legislation. Use this flowchart to ensure compliance at your business.
Step-by-step flowchart for FMLA expansion


Step-by-step flowchart for Emergency Paid Sick Leave

List of special rules & how to apply them

How to calculate the rate of pay for FMLA & Emergency Paid Sick Leave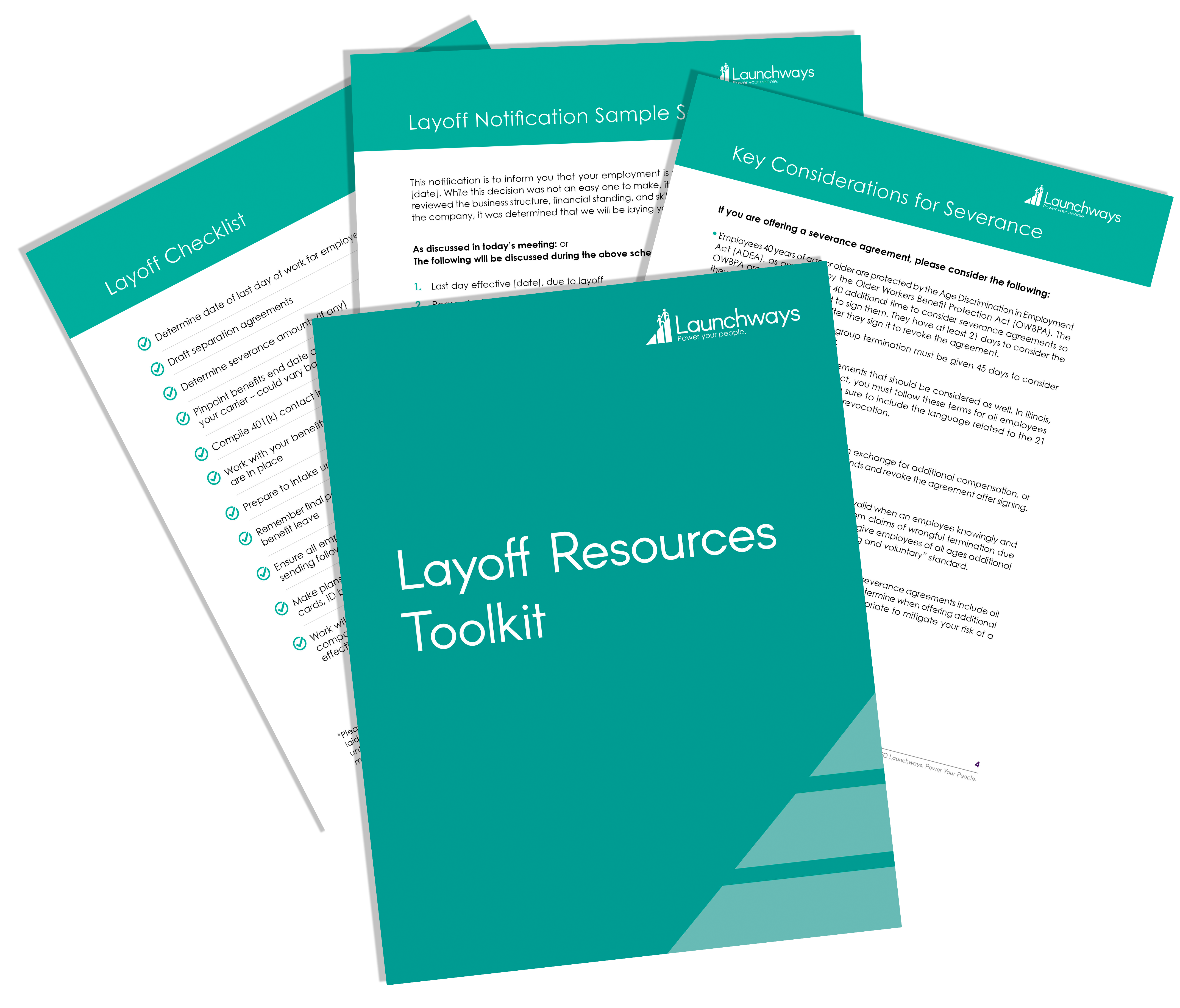 Are you considering layoffs? Download our complete layoffs resource toolkit
Do you know how to handle layoffs in a compliant manner at your organization? In our latest toolkit we provide a step-by-step process for everything an employer must do when conducting a layoff. You will get a checklist, sample script to discuss layoffs with employees, and more. You'll get:
Every step you need to take leading up to a mass layoff [Checklist]


Sample script on how to have a conversation with an employee about layoffs [Script]




Key considerations for offering severance [Best Practices]




Guidance on which benefits laid off employees are eligible for [Guide]
COVID-19 Resources, Templates, Policies, & Checklists Bundle Now Available
During this challenging time, Launchways is offering a centralized hub of COVID-19 resources, templates, & policies. Use this bundle to enact your company's response to the COVID-19 outbreak. The resource bundle includes:
Sample Emergency Family & Medical Leave Policy


Sample Emergency Paid Sick Leave Policy

Essential Business Letter [Template]

COVID-19 Furlough Letter [Template]

Sample COVID-19 Communication to Employees

Telecommuting Agreement & Work From Home Policy

Telecommuting Checklist

And many additional resources & templates
[Webinar] What Employers Need to Know About the COVID-19 Outbreak
Launchways hosted a webinar on the most crucial considerations employers must have in mind as the COVID-19 crisis unfolds. On the webinar we covered:
-Formalizing your COVID-19 strategy & response plan
-The difference between furloughs and layoffs
-The COVID Relief Bill HR6201
-Crucial FMLA & Sick Leave considerations
-What to do if one of your employees has COVID-19 or has been exposed to COVID-19
-Employee benefits considerations including telemedicine, COBRA, & STD
Launchways Resources for Responding to COVID-19
As temperatures begin to drop with the arrival of the fall season, certain areas of the U.S. are beginning to see a rise in confirmed COVID-19 cases. With infection rates trending back upward, it's important for employers to understand what their responsibilities are...
read more
Individuals, economies, and health care systems around the globe have been anxiously waiting for a COVID-19 vaccine. Fortunately, news from the vaccine developers is promising, and most reliable medical professionals agree that a vaccine will become widely available...
read more
Many HR professionals are awaiting key information from insurers on healthcare costs for 2021. Given all the uncertainty surrounding the COVID-19 pandemic and how it will impact healthcare costs for 2021 and beyond, employers may be faced with difficult decisions very...
read more
The moment we have all been awaiting over the last several weeks has finally arrived. The U.S. Department of Labor (DOL) has issued important regulations that clarify and revise who can qualify for emergency paid sick leave under the Families First Coronavirus...
read more
As the COVID-19 situation continues to wear on, every school district in the country has been forced to make difficult decisions, many of which can easily be perceived as "lose-lose" due to the complexity of the ever-changing COVID regulations. Remote learning is...
read more
The ongoing COVID-19 pandemic has created a new dynamic within the US healthcare system, leading to increased healthcare costs being passed onto employers. During this economically challenging time, it's more important than ever before that employers are strategically...
read more
This post continues our ongoing series of articles on how COVID will impact employer healthcare costs. In today's blog, we'll discuss four ways that COVID will likely lead to increased costs for employers. As healthcare providers begin to reopen and quarantines are...
read more
Prior to the COVID-19 crisis unfolding, most US employers were anticipating healthcare cost increases in the range of 4-7%, based on trends in 2018 and 2019. However, COVID-19 has drastically altered the healthcare space and thus dismantled most employers' previous...
read more
Many businesses are preparing to transition to return to work in a continuously COVID-impacted world. Many states are starting to loosen COVID-19 related restrictions and open back up, and others are sure to follow suit. Whether you already have a start-date in mind...
read more
As many businesses begin to officially reopen, it's more clear than ever that COVID-19 has changed the reality of our workspace. The constant but piecemeal flow of new guidance related to COVID-19 has become a business challenge unto itself – maybe the most important...
read more
As more states begin their official economic reopenings in the wake of COVID-19, many organizations feel like resuming the work itself isn't the biggest challenge. For many of us, reengaging and rebuilding our teams of talented professionals and getting them motivated...
read more
We all know that we need to modify the way we work to adapt in the wake of COVID-19. One of the main changes businesses are exploring is daily employee health screenings. Health screenings help employers protect their teams and ongoing work by keeping coronavirus out...
read more
For the last two months, businesses and professionals around the nation have held their breath waiting for the go-ahead to reopen and get back to work. Now that those orders are in place and the dates to resume business are nearing, it's essential that physical...
read more
As the majority of states transition toward some level of economic reopening, many professionals are scared that the economy is claiming priority above their health and wellbeing. If not addressed directly, this perception could easily lead to a disconnect between...
read more
The Families First Coronavirus Response Act (FFCRA) launched last month, temporarily expanding paid sick and FMLA leave for employees of businesses with headcounts of fewer than 500 as part of the national COVID-19 response. The follow-up CARES Act provided payroll...
read more
The Employee Benefits Security Administration (EBSA), IRS, and Department of the Treasury issued a joint announcement on April 28th stating that they are extending a variety of timeframes related to employer sponsored healthcare coverage, portability, and continuation...
read more
With some states cautiously reopening non-essential businesses before the COVID-19 national emergency has been officially declared over, it's crucial for the owners and managers of those businesses to get reopening right from a wellness and employee/public protection...
read more
The COVID-19 outbreak is changing nearly everything about how we work and do business. And if changing work conditions weren't enough for employees to deal with, they also have to navigate a host of new federal policies including temporarily expanded sick leave and...
read more
The COVID-19 outbreak is changing how companies operate. While it is having a profound impact on supply chains and the nature of demand, the most direct impact is the fact that most people are confined to their homes. Many companies are now working fully remote,...
read more
Filling out form I-9 is a standard onboarding procedure for any new hire. The new employee fills out Section 1 and provides supporting documentation of their identification and work-eligible status; then an HR professional makes copies of that documentation, completes...
read more
The COVID-19 outbreak is changing the way that America works. Even companies that had never had a work-from-home policy are now going fully remote. And companies with flexible work policies are having to expand those policies dramatically. Whether you have always...
read more
As our nation prepares to cautiously re-open the economy in the wake of COVID-19, there are still many reasonable questions about what "business as usual" will look like for the near future. The interpretation of the Americans with Disabilities Act (ADA) moving...
read more
At some point, the quarantine will end and companies will start getting back to business. However, it's unlikely this return will be "business as usual," but will instead have to factor in the new nuances COVID-19 has brought about. How we handle going back to work...
read more
It's hard to believe we've been focusing our work at Launchways on helping businesses thrive, survive, and protect their employees during COVID-19 for just over a month now. As we've worked to support our clients during this evolving situation, we've found that...
read more
The COVID-19 outbreak presents a many challenges for business owners, executives, and HR professionals. Keeping business running smoothly amid dwindling demand, supply-line disruptions, and quarantines is no easy task. An on top of these considerations, you also have...
read more
COVID-19 is continuing to affect our ability to do work in the way we're all used to. For billions of workers around the world, there has never been a greater time of uncertainty and concern. In order to continue the work effectively, you need to address those...
read more
During these uncertain times, it's more crucial than ever for the business community to come together and provide mutual support in ways that identify impactful best practices, connect colleagues with the tools they need to get work done, and ensure we're all adapting...
read more
There's never been a moment in recent history where access to healthcare and other employee benefits was quite so important. As we enter the predicted "surge week" here in the United States, HR and business leaders across the country are scrambling to determine how...
read more
The ongoing coronavirus (COVID-19) pandemic has dominated the headlines and business dialogue for the last month. It's easy to get bogged down in the daily numbers and constant flood of guidance updates, but it's also important to maintain hope in the power and...
read more
From supply chain disruptions to shrinking demand, business owners have to contend with a lot during the COVID-19 pandemic. But often the most stressful task is protecting employees from exposure while keeping your business running. Fear of an office outbreak is...
read more
Just before midnight Wednesday night, the Senate passed the Coronavirus Aid, Relief, and Economic Security (CARES) Act. The Act creates further economic protections for individuals and businesses in addition to the FMLA and paid sick team leave expansions created by...
read more
The ongoing COVID-19 pandemic has put telemedicine in the spotlight and directed new resources towards this crucial healthcare innovation. Over the past few years, telemedicine has gained traction with forward-thinking growing businesses and benefits brokers as a...
read more
In the last few weeks, the global economy has felt the pinch of coronavirus in a major way. The stock market has been dangerously volatile, and the federal government has announced a multi-trillion-dollar bailout. While the media focus has been primarily on the...
read more
The Families First Coronavirus Response Act (FFCRA) provides expanded paid leave for employees who are sick, caring for sick family members, or supervising children whose schools or daycare facilities are closed due to COVID-19. Since the announcement of the Act a...
read more
Employee Separation Resources
The following guide highlights the steps that need to be taken in regard to unemployment. Each state has their own policy and requirements which are outlined within the document. In addition, the document has links to the forms that should either be given to the employee upon termination or the form employers need to fill out in advance and supply the employee a copy.
Important Changes to Healthcare Offerings
At Launchways, we are very closely monitoring health carriers' responses to the situation. This is a fluid situation, and can change without notice, and will vary depending on your health carrier. However, below are some enhanced benefits that various carriers have added to existing fully-insured plans:
All testing for the COVID-19 virus will be provided free of charge in-network
Telemedicine visits will have a $0 copay
Pharmacies waiving charges for home delivery of medication
Increased supply of certain medications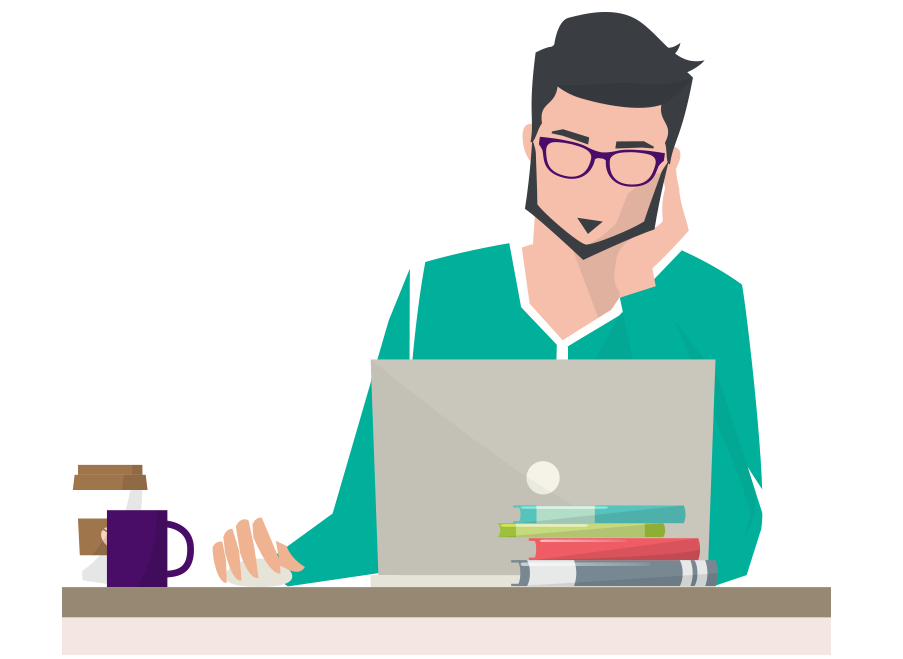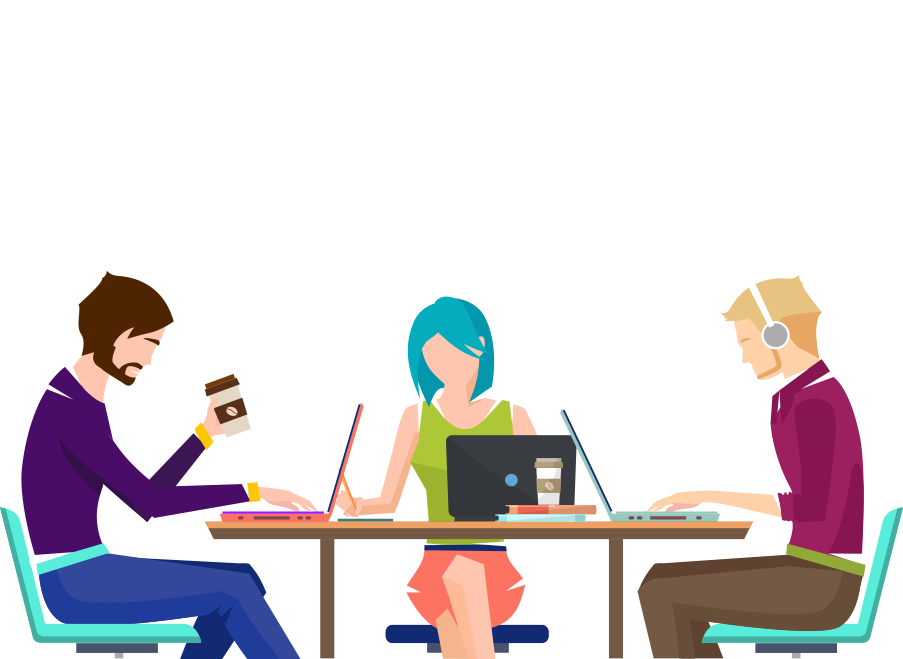 Small Business Guidance & Loan Resources
The US Small Business Administration (SBA) will work directly with state Governors to provide targeted, low-interest loans to small businesses and non-profits that have been severely impacted by the COVID-19. The SBA's Economic Injury Disaster Loan program provides small businesses with working capital loans of up to $2 million that can provide vital economic support to small businesses to help overcome the temporary loss of revenue they are experiencing. LEARN MORE >
Illinois is currently aggregating data so that both the state and local businesses can become eligible for relief once measures are passed. Submit your business for relief consideration >
US Department of Labor Resources
H.R.6201 – Families First Coronavirus Response Act (FFCRA)
The Bill has been approved. It will enact the following changes:
These provisions of the FFCRA require employers with fewer than 500 employees to provide full-time employees (regardless of how long the employee had been employed prior to the leave) with 80 hours of paid sick leave. Part-time employees receive only the number of hours they have worked over an average two-week period.These leave benefits are available only to employees who are absent from work for reasons related to Coronavirus.
The FFCRA also contains an expansion of the Family Medical Leave Act ("FMLA") to provide for leave needed for childcare purposes. This FMLA expansion covers all employers with fewer than 500 employees, not just employers of 50 or more employees. Specifically, this Emergency FMLA leave is available to eligible employees to care for the employee's child (under 18 years old) if the child's school or place of care is closed, or the child's child care provider is unavailable, due to a public health emergency.Employers may provide the first 10 days of this leave without pay. While employees can elect to substitute or use otherwise accrued paid leave during these initial 10 days, employers may not require employees to do so, no matter how their policies may read. Employees could elect to use their paid sick leave provided by the Emergency Paid Sick Leave Act above for this time to be paid. After this initial 10-day period, employers must provide additional paid leave to their employees for the remaining 10 weeks, but only at two-thirds of the employee's regular rate of pay for the number of hours the employee would normally be scheduled to work. The amount of pay during these 10 weeks is capped at $200 per day ($10,000 aggregate) per employee.
The FFCRA also provides for a refundable tax credit to employers for 100% of the qualified sick leave wages paid to their employees. These tax credits would be provided on a quarterly basis and are allowed against the employer's Social Security taxes.
Launchways Partners With Chill Chicago to Offer Free On-Demand Meditation Classes For Employees Effected by COVID-19 Social Distancing
At Launchways we value our clients' employees' health above all else. During these difficult times it's critical businesses focus on keeping their employees physically and mentally healthy.
Join the Launchways community to receive important updates