What Employers Must Know About the COVID-19 Vaccine
With several vaccines on the horizon, business leaders are now looking ahead to the feasibility of mandating employee vaccination against COVID-19. In our this webinar, seasoned employment law attorneys will discuss key aspects of COVID vaccination including: Can businesses legally require employees to receive the COVID-19 vaccine? Who qualifies for exemption? If the vaccine can't be mandated, how can organizations best incentivize employees to receive it?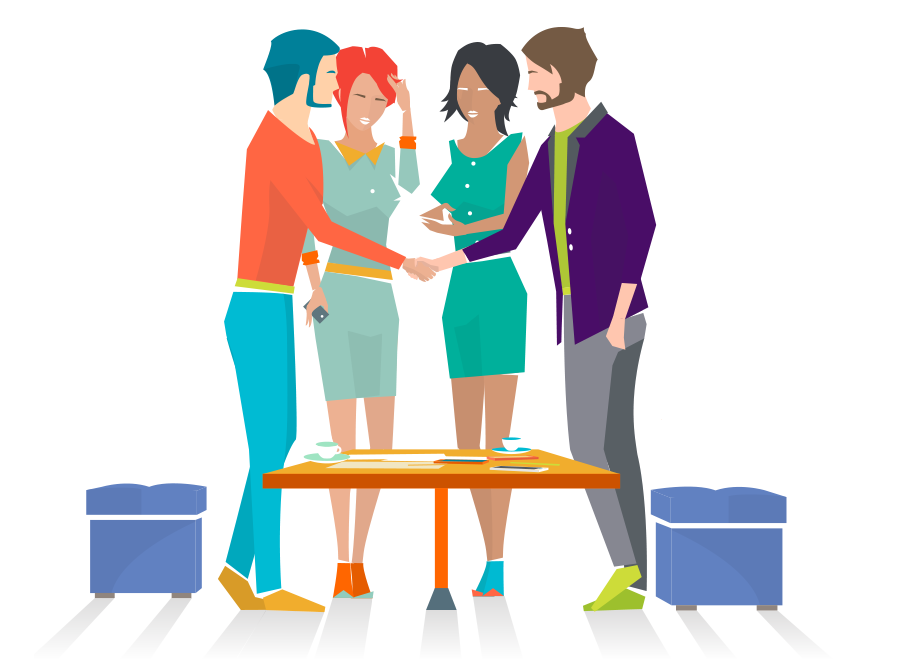 Coronavirus Resource Center
 As the COVID-19 outbreak continues to evolve, it's important for employers to stay up-to-date on unfolding legislation and critical HR and benefits considerations. Launchways has created a central hub of COVID-19 resource to help business leaders navigate these difficult times.
Are you preparing your business to re-open?
Checkout our Return-to-Work resources below
The Complete Return-to-Work Toolkit: 
How to Bring Your Workforce Back During COVID-19
Our 15-page toolkit includes the templates, checklists, and insights you need to ensure you have every aspect of return-to-work covered.

How to Determine Who Should Return to Work & When


Preparing & Modifying Your Physical Workspace




Protocols for Employee Re-Entry & Health Screenings




Building and Enforcing Social Distancing & COVID-Specific Employee Protocols

How to Address Workforce Anxiety About Returning to Work

Sample Return to Work Survey for Employees




How to Identify & Correctly Update Effected Company Policies

Roadmap for a Return-to-Work Communications Strategy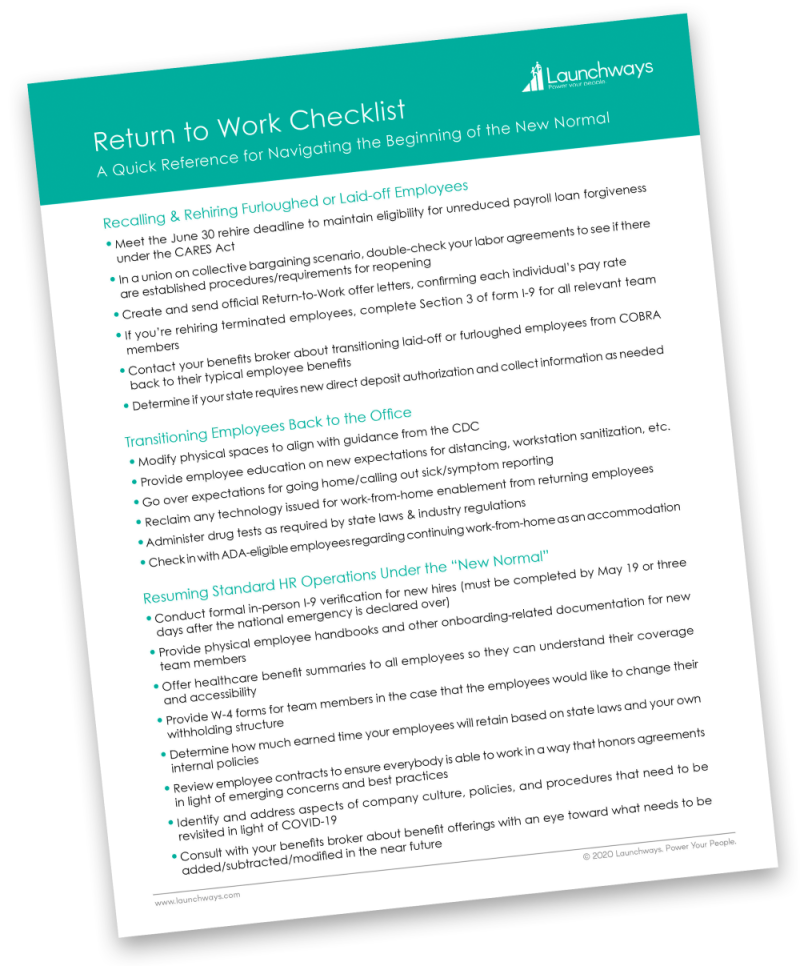 Return to Work Checklist:
What You Need to Know When Bringing Back Furloughed/Laid Off Employees
As businesses begin preparing their return to work strategies, there are many nuances and compliance considerations you must keep in mind when recalling a furloughed or temporarily laid off workforce. This checklist covers what you need to know.
Rehire deadlines and protocols to qualify for the CARES Act loan forgiveness program




Step-by-step considerations for recalling furloughed or laid off employees




Key considerations for transitioning employees back into a physical workspace




How to resume HR operations and ensure your business remains compliant with all local and federal regulation
Return-to-Work Resources on the Launchways Blog
Ensure that 100% of their workforce is vaccinated against the COVID-19 virus, with any of the emergency or fully FDA-approved vaccines; ORReceive a weekly negative COVID-19 test result from all unvaccinated employees prior to coming to work. In addition to this...
read more
Webinar Available to Stream Now
Everything You Need to Know toBuild a Return to Work Plan
On our pre-recorded webinar legal, leadership, and safety experts team up to equip you with a comprehensive understanding of every aspect of an effective return to work strategy during COVID-19.
Questions about Payroll in light of new COVID-19 regulations? Get our Payroll FAQ
In our payroll FAQ learn how to administer payroll in a compliant manner in light of FFCRA and CARES Act legislation.

Families First Coronavirus Response Act
(FFCRA) payroll FAQ


Employee tax relief FAQ

CARES Act employer tax relief FAQ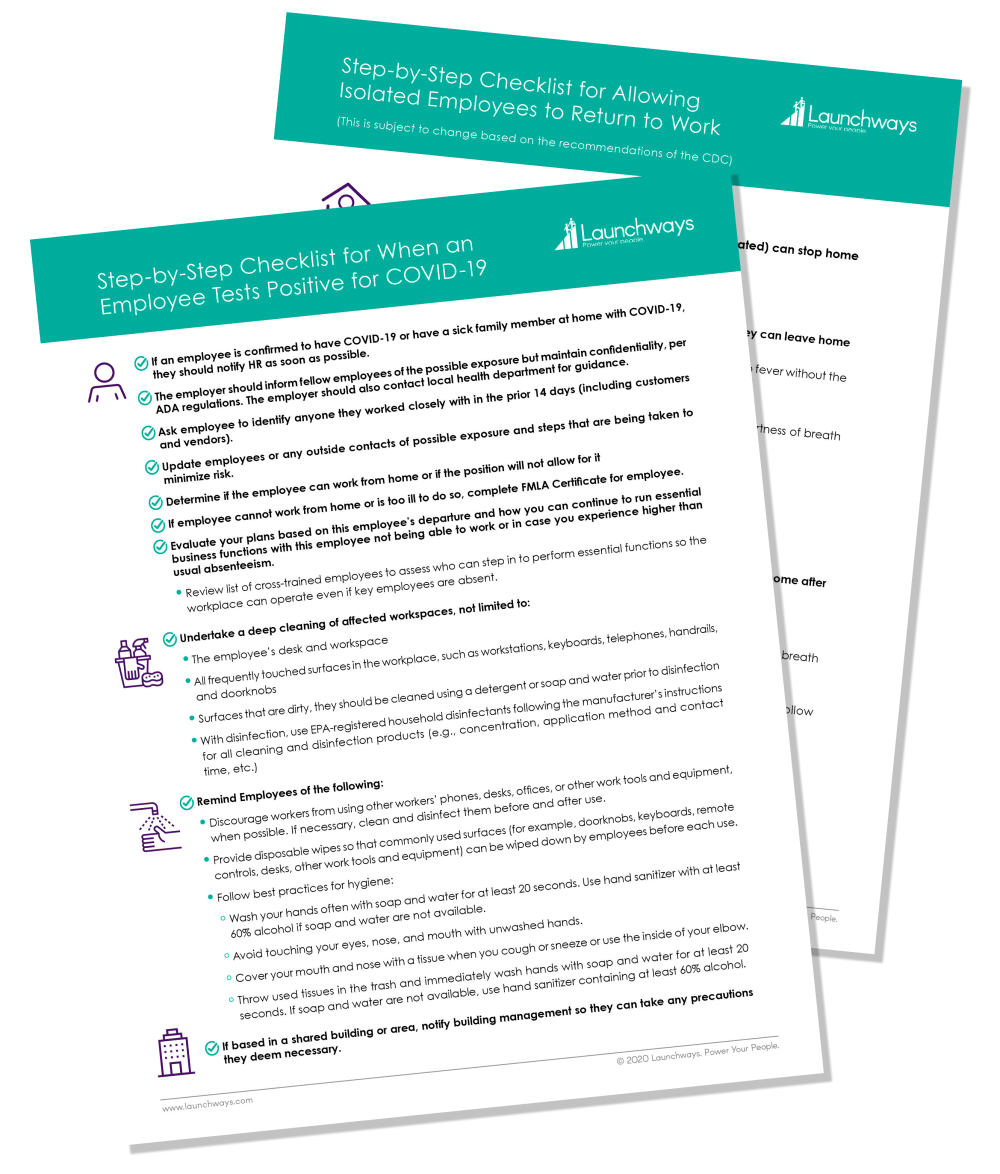 Step-by-Step Checklist for When an Employee Tests Positive for COVID-19
Do you know what to do if one of your employees tests positive for COVID-19? In our new checklist we will show you, step-by-step, what actions you need to take to manage an employee with COVID-19, reduce risk of the infection spreading in your workforce, and how to determine when the employee can return to work. Here's what's included:
Steps to take immediately after being notified an employee is positive for COVID-19
Critical missteps to avoid (such as violating ADA regulations)
How to identify other employees at risk & properly notify them
Proper procedures for a deep-cleaning of affected workspaces
How to determine when an employee can safely return to work without infecting others
Toolkit: How to Help Your Employees Manage Self Isolation During COVID-19
Mandatory stay-at-home orders have forced many people into isolation, which can be mentally difficult. In our new toolkit, we provide actionable resources to help you support a mentally-well workforce during the time of COVID-19.
Here's what the toolkit includes:
Checklist of tools you can provide employees to help them stay physically and mentally well

Actionable strategies to help keep your team members connected, even while working remotely

Tips on how to help employees reduce COVID-19 related stress
Webinar Available to Stream Now
How to Prepare Your Business for New COVID-19 Laws
Learn actionable strategies to prepare your business to handle new COVID-19 employer mandates & how to take advantage of new federal tax credit programs
US Department of Labor Issues Guidance on 

the Families First Coronavirus Response Act (FFCRA)
Families First Coronavirus Response Act Flowchart
Launchways is offering a comprehensive flowchart outlining FMLA & Paid Sick Leave changes in light of the new COVID-19 legislation. Use this flowchart to ensure compliance at your business.
Step-by-step flowchart for FMLA expansion


Step-by-step flowchart for Emergency Paid Sick Leave

List of special rules & how to apply them

How to calculate the rate of pay for FMLA & Emergency Paid Sick Leave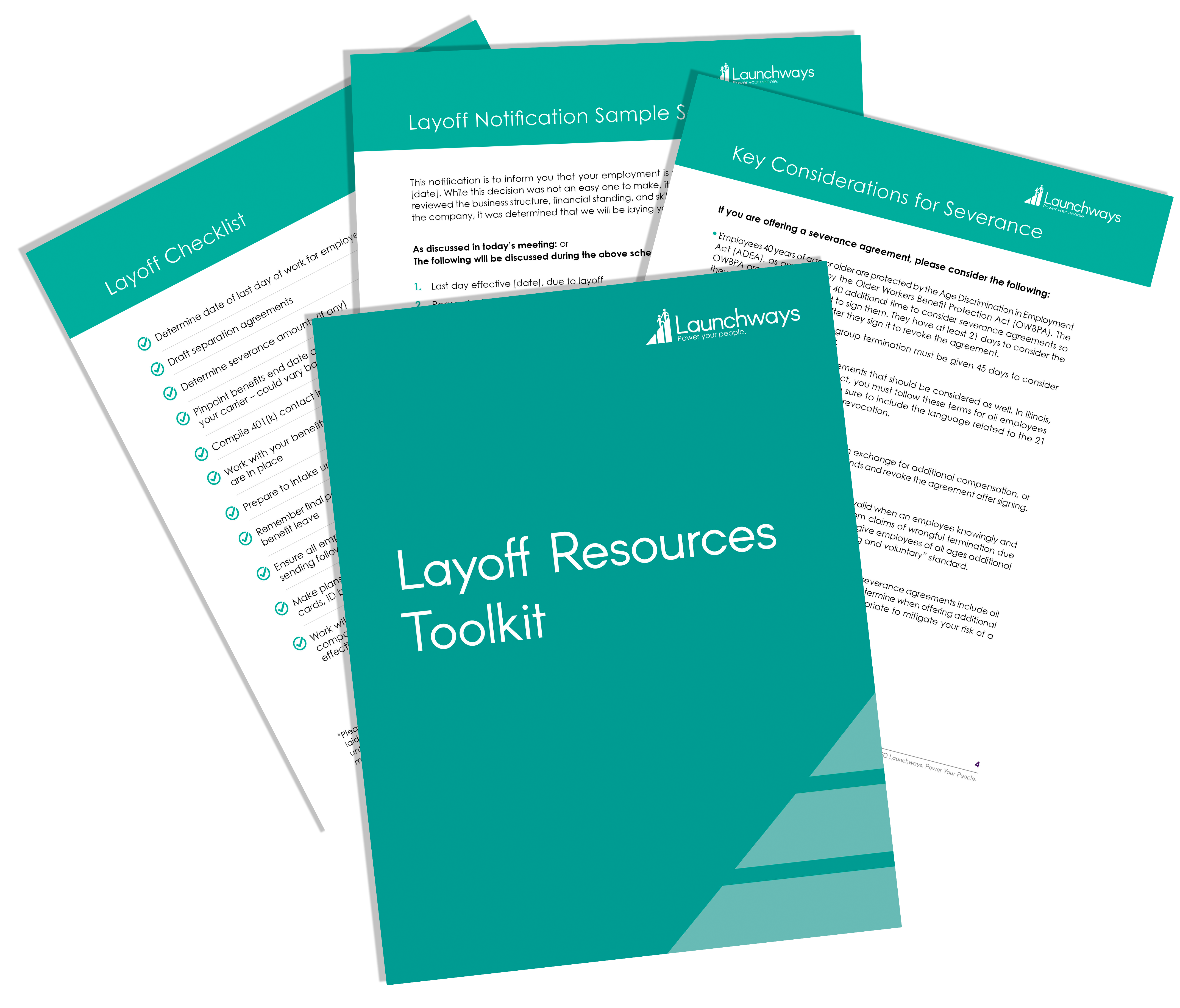 Are you considering layoffs? Download our complete layoffs resource toolkit
Do you know how to handle layoffs in a compliant manner at your organization? In our latest toolkit we provide a step-by-step process for everything an employer must do when conducting a layoff. You will get a checklist, sample script to discuss layoffs with employees, and more. You'll get:
Every step you need to take leading up to a mass layoff [Checklist]


Sample script on how to have a conversation with an employee about layoffs [Script]




Key considerations for offering severance [Best Practices]




Guidance on which benefits laid off employees are eligible for [Guide]
COVID-19 Resources, Templates, Policies, & Checklists Bundle Now Available
During this challenging time, Launchways is offering a centralized hub of COVID-19 resources, templates, & policies. Use this bundle to enact your company's response to the COVID-19 outbreak. The resource bundle includes:
Sample Emergency Family & Medical Leave Policy


Sample Emergency Paid Sick Leave Policy

Essential Business Letter [Template]

COVID-19 Furlough Letter [Template]

Sample COVID-19 Communication to Employees

Telecommuting Agreement & Work From Home Policy

Telecommuting Checklist

And many additional resources & templates
[Webinar] What Employers Need to Know About the COVID-19 Outbreak
Launchways hosted a webinar on the most crucial considerations employers must have in mind as the COVID-19 crisis unfolds. On the webinar we covered:
-Formalizing your COVID-19 strategy & response plan
-The difference between furloughs and layoffs
-The COVID Relief Bill HR6201
-Crucial FMLA & Sick Leave considerations
-What to do if one of your employees has COVID-19 or has been exposed to COVID-19
-Employee benefits considerations including telemedicine, COBRA, & STD
Launchways Resources for Responding to COVID-19
On November 4th, 2021, OSHA released its high-anticipated emergency temporary standard (ETS), commonly referred to in the press as the vaccine mandate. The general aim of this new standard has been known for some time, but, with the specific details finally available,...
read more
Ensure that 100% of their workforce is vaccinated against the COVID-19 virus, with any of the emergency or fully FDA-approved vaccines; ORReceive a weekly negative COVID-19 test result from all unvaccinated employees prior to coming to work. In addition to this...
read more
The coronavirus pandemic has proven a broad and nearly universal view that American's relationship with technology will deepen, including their ability to work from almost anywhere. If you work remotely in the same state as your business location, you can follow the...
read more
As we enter the halfway point in the year following the year of the pandemic, by now most of us are familiar with the term "return to work." Many businesses have brought their employees back to the workplace, while some have adopted a more hybrid model of maintaining...
read more
The global COVID-19 pandemic that has altered operations for nearly every business in one form or another is finally beginning to subside. Although concerns over continued spread and new variances continues, cases are trending downward and vaccinations are trending...
read more
Every year, the US spends $3.8 trillion on healthcare. What's more, 90% of this goes to caring for chronic conditions. In an effort to reduce costs, improve the quality of life for their employees, and improve employee retention, for years, employers have shown...
read more
The COVID-19 Pandemic, which began over a year ago, has changed the workplace in many ways. Some of these changes have been for the better, such as reduced office space overhead for employers. Other changes have been for the worse, like employee isolation, mental...
read more
The COVID-19 pandemic continues to bring forth a variety of questions for businesses. Employers can take a number of preventive steps to help keep employees safe, but they should also prepare to respond to various situations that can occur in the workplace. This...
read more
The $1.9 billion relief bill, known as the American Rescue Plan, has passed Congress and willhead to President Joe Biden for a signature. Highlights of the bill include extendedunemployment benefits, direct checks to individuals and more. While some of the bill was...
read more
The Paycheck Protection Program (PPP) is likely the most discussed of all the federal programs issued to address the impact the COVID-19 pandemic has had on our economy. Millions of employees across the country were left without income after nearly every small...
read more
Navigating all of the challenges and operational changes related to the COVID-19 pandemic has been difficult for both employers and employees. Thankfully communication between the two has played a pivotal role in keeping employees safe and healthy. Now, with the FDA...
read more
In late January 2021, the Occupational Safety and Health Administration (OSHA) issued updated guidance on mitigating and preventing the spread of COVID-19 in the workplace. This guidance is meant to help employers and workers determine appropriate COVID-19 control...
read more
Multiple COVID-19 vaccines are now being distributed across the world. Initial reports indicate that distribution has been slow, but the pace will surely pick up in coming weeks as more vaccines are produced. The vaccine is the light at the end of a dark tunnel that...
read more
Many HR professionals would agree that the year 2020 was the most challenging year to date when it comes to managing human capital effectively. The COVID-19 pandemic forced businesses to adapt in a variety of ways, including restructuring workforces, transforming...
read more
On Monday, Jan. 11th, The U.S. Department of Treasury and the U.S. Small Business Administration began accepting applications for the second round of Payment Protection Program (PPP) loans. This second round will continue until Mar. 31st, 2021. Both new borrowers and...
read more
At the beginning of 2020, working from home was often viewed by employers and workers as a privilege that few were able to take advantage of regularly. By the end of this year, remote work has become an accepted and, at times, a dull reality of life as the COVID-19...
read more
The leading news of the week from the political world has been the $900 billion stimulus package that was passed by Congress on Monday, December 21st. After several months of stalemate between the divided house and senate, a COVID-19 relief bill finally won enough...
read more
The year 2020 presented many unprecedented challenges for businesses of all sizes and industries. The COVID-19 pandemic forced most employers to significantly alter their operations. Some of these changes might revert back once the pandemic is over, but other changes...
read more
This year's McKinsey and LeanIn.org's annual Women in the Workplace study reports that 25% of women in the workforce are considering changing their careers or leaving the workforce altogether. Rachel Thomas, CEO of LeanIn.org in Palo Alto, California stated, "This...
read more
Each new calendar year brings significant changes in the form of laws and regulations affecting employee benefits and general HR compliance. And this year, with the ongoing COVID-pandemic, employers are facing more unprecedented challenges that ever before. In this...
read more
The modern workplace as we knew it is likely gone forever. COVID-19 has turned many industries and their respective workplaces upside down. For most office and administrative positions, employees are now working remotely – and there's a chance they'll never return to...
read more
Since the outbreak of COVID-19, we have faced a number of unprecedented challenges. It has dramatically launched us forward in what has been the most rapid transformation of the workforce ever seen - creating a new normal that prioritizes the use of technology and...
read more
It's natural for managers to wonder about their employees' productivity levels in a remote work environment. Since the transition from a highly collaborative and supervised office to scattered, private homes, working people have faced a range of obstacles that have...
read more
Among the many challenges brought on by the COVID-19 pandemic, one issue facing employers has proven to be more difficult to face than others. Unemployment fraud has become an excessive problem for many - one that, until now, many employers haven't had to concern...
read more
COVID-19 is Changing Priorities Since the outbreak of COVID-19, the benefits landscape has seen changes on a fundamental level. Both employers and employees have recognized the need for plans that cover the health and well-being of individuals and their families in...
read more
As temperatures begin to drop with the arrival of the fall season, certain areas of the U.S. are beginning to see a rise in confirmed COVID-19 cases. With infection rates trending back upward, it's important for employers to understand what their responsibilities are...
read more
Individuals, economies, and health care systems around the globe have been anxiously waiting for a COVID-19 vaccine. Fortunately, news from the vaccine developers is promising, and most reliable medical professionals agree that a vaccine will become widely available...
read more
Many HR professionals are awaiting key information from insurers on healthcare costs for 2021. Given all the uncertainty surrounding the COVID-19 pandemic and how it will impact healthcare costs for 2021 and beyond, employers may be faced with difficult decisions very...
read more
The moment we have all been awaiting over the last several weeks has finally arrived. The U.S. Department of Labor (DOL) has issued important regulations that clarify and revise who can qualify for emergency paid sick leave under the Families First Coronavirus...
read more
As the COVID-19 situation continues to wear on, every school district in the country has been forced to make difficult decisions, many of which can easily be perceived as "lose-lose" due to the complexity of the ever-changing COVID regulations. Remote learning is...
read more
The ongoing COVID-19 pandemic has created a new dynamic within the US healthcare system, leading to increased healthcare costs being passed onto employers. During this economically challenging time, it's more important than ever before that employers are strategically...
read more
This post continues our ongoing series of articles on how COVID will impact employer healthcare costs. In today's blog, we'll discuss four ways that COVID will likely lead to increased costs for employers. As healthcare providers begin to reopen and quarantines are...
read more
Prior to the COVID-19 crisis unfolding, most US employers were anticipating healthcare cost increases in the range of 4-7%, based on trends in 2018 and 2019. However, COVID-19 has drastically altered the healthcare space and thus dismantled most employers' previous...
read more
Many businesses are preparing to transition to return to work in a continuously COVID-impacted world. Many states are starting to loosen COVID-19 related restrictions and open back up, and others are sure to follow suit. Whether you already have a start-date in mind...
read more
Employee Separation Resources
The following guide highlights the steps that need to be taken in regard to unemployment. Each state has their own policy and requirements which are outlined within the document. In addition, the document has links to the forms that should either be given to the employee upon termination or the form employers need to fill out in advance and supply the employee a copy.
Important Changes to Healthcare Offerings
At Launchways, we are very closely monitoring health carriers' responses to the situation. This is a fluid situation, and can change without notice, and will vary depending on your health carrier. However, below are some enhanced benefits that various carriers have added to existing fully-insured plans:
All testing for the COVID-19 virus will be provided free of charge in-network
Telemedicine visits will have a $0 copay
Pharmacies waiving charges for home delivery of medication
Increased supply of certain medications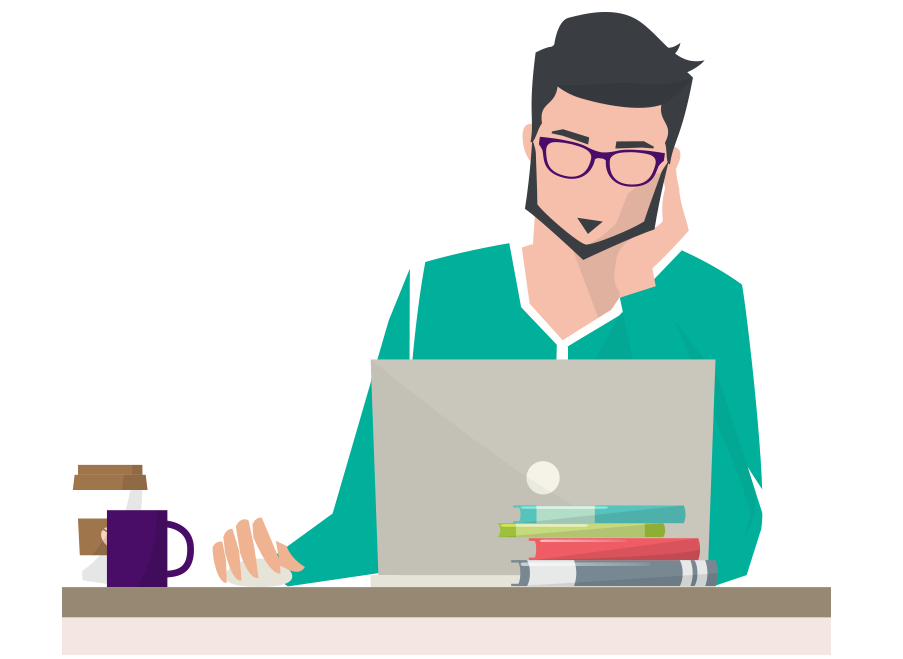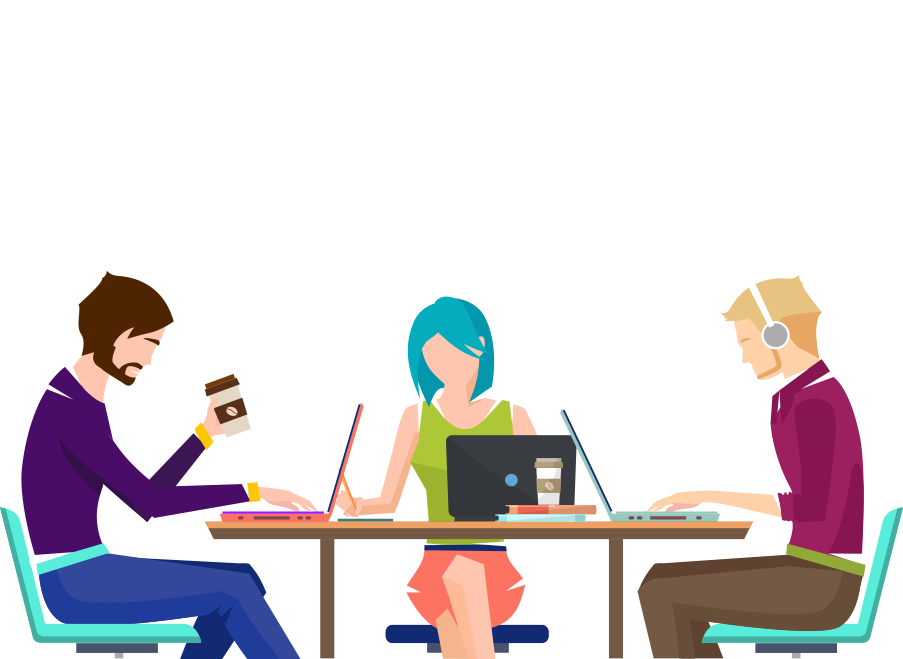 Small Business Guidance & Loan Resources
The US Small Business Administration (SBA) will work directly with state Governors to provide targeted, low-interest loans to small businesses and non-profits that have been severely impacted by the COVID-19. The SBA's Economic Injury Disaster Loan program provides small businesses with working capital loans of up to $2 million that can provide vital economic support to small businesses to help overcome the temporary loss of revenue they are experiencing. LEARN MORE >
Illinois is currently aggregating data so that both the state and local businesses can become eligible for relief once measures are passed. Submit your business for relief consideration >
US Department of Labor Resources
H.R.6201 – Families First Coronavirus Response Act (FFCRA)
The Bill has been approved. It will enact the following changes:
These provisions of the FFCRA require employers with fewer than 500 employees to provide full-time employees (regardless of how long the employee had been employed prior to the leave) with 80 hours of paid sick leave. Part-time employees receive only the number of hours they have worked over an average two-week period.These leave benefits are available only to employees who are absent from work for reasons related to Coronavirus.
The FFCRA also contains an expansion of the Family Medical Leave Act ("FMLA") to provide for leave needed for childcare purposes. This FMLA expansion covers all employers with fewer than 500 employees, not just employers of 50 or more employees. Specifically, this Emergency FMLA leave is available to eligible employees to care for the employee's child (under 18 years old) if the child's school or place of care is closed, or the child's child care provider is unavailable, due to a public health emergency.Employers may provide the first 10 days of this leave without pay. While employees can elect to substitute or use otherwise accrued paid leave during these initial 10 days, employers may not require employees to do so, no matter how their policies may read. Employees could elect to use their paid sick leave provided by the Emergency Paid Sick Leave Act above for this time to be paid. After this initial 10-day period, employers must provide additional paid leave to their employees for the remaining 10 weeks, but only at two-thirds of the employee's regular rate of pay for the number of hours the employee would normally be scheduled to work. The amount of pay during these 10 weeks is capped at $200 per day ($10,000 aggregate) per employee.
The FFCRA also provides for a refundable tax credit to employers for 100% of the qualified sick leave wages paid to their employees. These tax credits would be provided on a quarterly basis and are allowed against the employer's Social Security taxes.
Launchways Partners With Chill Chicago to Offer Free On-Demand Meditation Classes For Employees Effected by COVID-19 Social Distancing
At Launchways we value our clients' employees' health above all else. During these difficult times it's critical businesses focus on keeping their employees physically and mentally healthy.
Join the Launchways community to receive important updates