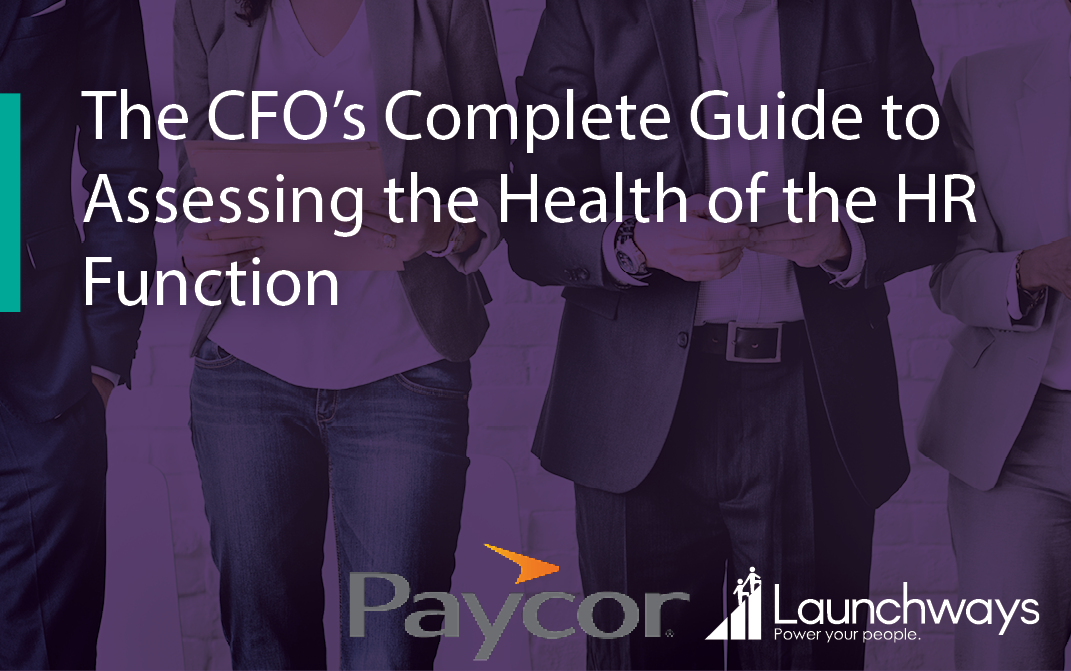 Chief Financial Officers (CFOs) are now becoming more and more engaged in the HR function, and ensuring that each and every aspect of HR is reviewed carefully and regularly is an important step forward for any organization.
Data from a Robert Half survey shows that HR is the top area where CFOs have expanded their reach over the last three years (39%), largely because CFO involvement in HR allows them to address staffing challenges from a financial perspective.
As CFOs continue to put more time into HR, it's first crucial to understand the major areas in which CFOs should begin their assessments regarding whether an organization has a sound HR operating structure in place. In this post we will overview the main areas of focus a CFO should assess to ensure a healthy HR function.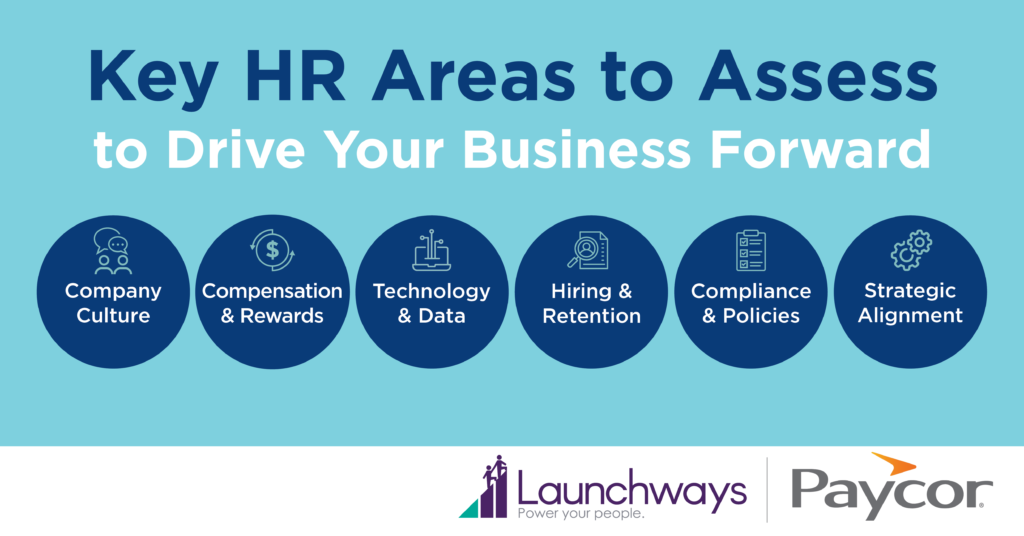 HR Areas of Focus for CFO Assessment
Company Culture
Company Culture Audit
Company culture is one of the most important aspects of maintaining a competitive modern workplace. In a study conducted by RippleMatch, company culture was the leading reason that a candidate decided to accept a job or not, with almost three quarters of respondents (who were 700-plus recent graduates) reporting that this consideration was the most important. When it comes to auditing your organization's cultural health, measuring employee satisfaction is key.
Employee Satisfaction
In HR's current "war for talent," with the unemployment rate the lowest it's been in decades, it's more important than ever to create a solid recruitment strategy that's complemented by employee satisfaction as a serious driving force. CFOs looking to assess the current health of the HR department need to put time into assessing employee satisfaction, whether by:
• Implementing regular employee satisfaction surveys
• Inviting employees to join company discussions or meetings
• Gauging interest in benefits like company events, outings, professional development opportunities, and work-life balance benefits
• Ensuring a sound manager-employee review system is in place that happens at least once or twice per year
Addressing Critical Culture Issue Areas
Another aspect of a company culture audit is identifying the most critical issue areas. To really have a complete, successful HR program, any company culture problems must be proactively addressed. Critical issues often include that the company has no clear values that employees can recognize and thus cling to; that leadership isn't accessible or transparent; or that there are no long-term goals in place.
If these three common issues can be recognized and addressed by CFOs, company culture will be on the path to being revamped and competitive.
Compensation and Rewards
Of course, another important aspect of HR is compensation and benefits. And part of staying relevant is ensuring that you're offering competitive salaries and benefits packages to employees.
Benchmarking Salaries
Especially with top-level talent and executives, it can be challenging to know if an employee will be tempted by a better offer within a competing organization. One way to ensure you remain competitive and retain this top talent is to benchmark, which means assessing your own compensation structure and comparing it to other companies within your industry. Then, salaries can be updated if necessary (or, benefits can be improved to balance out any salary discrepancies).
Bonuses and Incentives
It's common knowledge that employee satisfaction increases when employee contributions are overtly recognized and celebrated. This is why bonuses or performance-based incentives can be impactful in HR retention strategies. CFOs should try implementing an incentive that's based on an employee's performance, giving them something to work towards and thus improving motivation. Year-end bonuses can also help employees feel recognized and satisfied with their jobs. While a simple "thank you" may work at times to encourage and inspire, HR and CFOs should work together to create an incentive program that the organization can afford and which motivates employees.
Benefits Package
Similar to compensation benchmarking, CFOs should do their research to ensure that the company's benefits package is competitive and updated regularly. This means knowing what modern top talent is looking for. According to Harvard Business Review survey data, the most desirable employee benefits are:
• Health, dental, and vision insurance
• Flexible hours
• Vacation time/paid time off
• Work-from home options
• Unlimited vacation
• Student loan assistance
• Tuition assistance
• Paid parental leave
One of a business' largest expenses is the annual dollar amount spent on employee benefits. CFOs should make sure that benefits dollars and being invested wisely into crafting a thoughtful, impactful benefits package.
Technology and Data
Another big consideration for HR departments and CFOs alike is data. With the rise of automation and machine learning, businesses can now streamline processes and analyze large amounts of data to make future plans and projections. And these changes apply to HR efforts, such recruitment and retention, which now depend on sophisticated data and a method in place to analyze it, such as a useable online dashboard.
According to a report from KPMG, 92% of strategic HR functions now see automation as having a significant impact on the HR function, and 66% of organizations are putting a greater focus on the automation conversation within their company.
However, actual strategies are still lacking in HR, KPMG data also shows. While around two thirds of HR executives recently reported to believe that HR is undergoing a big digital transformation, only 40% of these leaders said they have a plan in place at either the enterprise or HR level. So, putting these considerations at the top of the priority list could give your business a significant competitive edge.
Assessing the Existing Technology Stack
First, CFOs should start by assessing their HR department's current technology utilization. Is there a method in place to not only gather data, but to analyze it and incorporate it into a long-term strategy? What databases and dashboards are being used, and are they successful? And of course, cost is an important factor in implementing new technologies, so CFOs are encouraged to always consider technology ROI in terms of process improvement.
How to Find the Right HR tech for Your Business
Every organization has different needs and trends, so it's important for you to help your HR department figure out which technologies will best meet your business' needs. Some important considerations to keep in mind include:
• How automation will impact the need for long-term HR staff
• Training for HR staff to be able to properly use technology to handle and analyze data
• Implementation processes and timelines for new technology
Key Data Metrics to Track Over Time
So what metrics should your HR department care about most? Here are some of the top data metrics for HR to track and use for future planning:
• Cost-benefit analysis: tracking the benefits of a program weighed against the cost (such as a benefits package)
• Revenue per employee/productivity: tracking the total amount of company revenue divided by the number of employees so that efficiency and productivity can be measured via human capital
• Recruitment: tracking how long it takes to fill a position, and how much it costs
• Turnover: tracking how long employees stay at the company and which departments see the highest turnover, in addition to the cost of turnover
• Retention: tracking the company's actual ability to retain key talent
Hiring and Retention
Next, CFOs should analyze hiring and retention strategies, one of the most important parts of the HR function.
Recruitment Tactics
How is the HR department currently approaching recruitment? This includes considerations like where job advertisements are being posted, whether recruiters are engaged with platforms like LinkedIn or other social media outlets, and whether competitors' job posts are being assessed and incorporated into the company's own job ad approach.
Depending on your industry, recruiters should be involved in researching and reaching out to top talent who they find would be great candidates. This could be through networking events or via online platforms.
Hiring Processes
It's also important to consider the efficiency and effectiveness of hiring procedures, such as:
• How resumes or cover letters are received (email, online application, etc.)
• How long it takes HR to respond
• How the interview process works (i.e., phone interview followed by two in-person interviews)
• How job offers are relayed (email, formal letter)
Onboarding and Training
A good onboarding strategy can make or break recruitment efforts and retention strategies. It's important to set up a welcoming, informative program that educates new hires and aims to integrate them into company culture by involving multiple departments and individuals. These early connections are important for any new hire to feel like they made the right decision in accepting a job.
Just as important is training and development that new hires will need, so each department should have its own system in place in addition to the overall HR employee training program. These are important considerations: 69% of employees have a higher chance of sticking with a company for three years if they have a great onboarding experience.
Identifying and Addressing Turnover Issues
One of the biggest threats for modern businesses is high turnover. The Center for American Progress says that on average, the cost of turnover is 22% of an employee's annual salary.
The first step in addressing turnover problems is figuring out when employees leave—if it's near the start of their tenure at the company, greater focus is needed for onboarding and training, perhaps. If it's later in the employee's tenure, the reasons could be related to company culture, benefits, compensation, management, or room for growth within the company. All of these considerations deserve a detailed plan from your HR function.
Compliance Review
CFOs play a major role in HR compliance, since penalties or legal issues could be involved if required policies and procedures aren't followed. Here are the top areas for CFOs to review regarding compliance.
Employee Handbook
Every HR department should create an employee handbook that lists all policies and procedures. This levels the playing field so that employees don't think one worker is getting special treatment. The handbook should be updated as the industry changes or as new laws and regulations are put into effect, and it should include things like benefits, leave policies, dress code, flexible working opportunities, tuition reimbursement, and more.
Employee Files
CFOs should take a look at how employee files are currently handled. There are many records that need to be kept confidential, so it's crucial to ensure that there is a security system in place for these sensitive records.
Benefits Compliance Review
There are important acts and laws for every HR professional and CFO to understand and ensure compliance with. Some of the most important include:
• Family and Medical Leave Act (FMLA): related to required time off for new parents, health issues, or family issues
• Fair Labor Standards Act: overtime regulations, minimum wage, etc.
• Disability coverage regulations for employees
• COBRA: required continued insurance offering after an employee leaves the company
An important aspect of the HR function is ensuring all of these important regulations and policies are followed and applicable requirements are met.
Strategic Alignment Evaluation
Because HR is such a crucial part of company operations, it's important that the department is aligned with other areas across the organization. HR is often the first point of contact for job candidates, so HR professionals have a unique obligation to reflect company values as well as the positives of working at your business.
Aligning Finance, HR, and Company Goals
Part of the CFO's involvement in HR is to ensure that practices are aligned with finance and overall company goals. Some of the HR metrics to track that were described earlier will apply here, since they'll be important in determining cost-benefit ratio, the cost of recruitment/new hires, and other HR finance considerations.
Company goals and values should also align with HR for the reasons previously mentioned: HR is often the face of the company during recruitment and hiring, so it's crucial that these professionals reflect the organization's mission, vision, and goals. Leadership from each of these areas within the company should meet regularly and discuss any issues so that key team members are aligned across the board.
Long-Term Workforce Planning
Many of the considerations already discussed are necessary for efficient workforce planning. This means integrating a company's goals and mission while ensuring that the organization has the human capital it needs to succeed. HR professionals, in conjunction with the CFO, need to evaluate both current and future needs in personnel and departmental structure, and figure out how to make these efforts cost-effective.
Another consideration here is the professional development and training that will keep personnel effective within the given industry. As mentioned, in regards to technology, systems and processes are constantly changing, and companies have to ensure that they keep up by educating employees, ensuring they can operate with the most cost-effective and efficient tools in place.
Key Takeaways
In today's workforce, CFOs are tasked with ensuring that HR not only functions as it should on the appropriate legal and financial level, but also that it is making successful efforts to integrate technology and implement high-impact recruiting and retention strategies.
When assessing the current state of an HR department, CFOs should remember to look at the following key areas:
Company Culture
Compensation, Benefits, and Incentives
Technology and Data Strategy
Hiring, Onboarding, and Retention
Compliance
Strategic Alignment and Workforce Planning
Only after reviewing these key aspects of HR can CFOs better make decisions about personnel, policies and procedures, cost considerations, and departmental structure that will drive the business forward.