Growing companies are increasingly turning to diversity and inclusion, or D&I, initiatives to fuel their success. People are the ultimate drivers of business success and having the widest range of perspectives available to tackle business challenges is an invaluable asset to companies of all sizes. But small-to-mid-sized businesses are particularly strongly defined by the makeup of their employees.
Many businesses have D&I policies and procedures as a matter of course and treat it as a compliance issue or silo it in HR. But others are starting to put the principles of diversity and inclusion at the heart of everything that they do. And they're seeing real results. Recent studies show that greater gender and racial diversity each are directly correlated with increased profitability and value creation. And companies with the most women and minorities in leadership positions are between 20-30% more likely to achieve above-average financial performance.
One of the companies that have gone above and beyond in their D&I efforts is Launchways client Tandem, a consultancy that focuses on developing custom software solutions for growing businesses. We spoke to Tandem CEO, JC Grubbs, about how and why he has tried to foster diversity at his startup and how these efforts have contributed to his business's phenomenal success. As it turns out, businesses looking for ways to stand out from competitors and fuel innovation within their organization have a lot to gain from the lessons that Tandem has learned.
Why D&I Is A Top Priority for Tandem
Before delving into the business advantages of having a more diverse and inclusive team, it's worth spending some time to consider the moral forces that influence businesses like Tandem to focus so much effort into D&I. Generally speaking, many employers feel a moral responsibility to take care of the employees who dedicate so much of their time and energy to growing their company, and that includes making sure that all employees feel welcome and receive fair treatment regardless of their backgrounds or demographics. Diversity and genuine inclusion are important elements of the positive company culture that so many business leaders want to maintain.
For JC, though, his moral obligation to promote a diverse and inclusive workplace at Tandem goes beyond these general principles. As a member of the LGBTQ community who has experienced first-hand both inclusive and non-inclusive environments work environments, he sees it as his duty to make sure that everyone feels welcome and included at Tandem.
Beyond moral considerations, D&I is just good business for companies like Tandem. The studies showing how diversity contributes to profitability and value creation are grounded in business realities that JC has seen at his company. Since starting the company in 2011, he has seen how Tandem's products and the ways that the company executes its work dramatically improve as the team becomes more diverse. As JC says, "It has happened over time but as I look at the way that we've run engagements with clients, I see a continual improvement in that. Part of that comes from learning and process improvement but I attribute a significant portion of that to our efforts in bringing more diverse voices to the table in how we deliver work to our clients."
So how has JC built such a diverse and productive team? A lot of it has to do with the way that Tandem brands itself and crafts its company culture.
Importance of Employer Branding
Authentic branding should represent who you want to be as a company not just how you want to be seen. With that principle in mind, Tandem recently underwent a significant branding effort, including adopting the name Tandem in place of DevMynd, to put the principles of diversity, inclusion, and human connection at the very core of the brand. This new brand emphasizes the company's focus on the human side of software development: getting as many diverse voices and perspectives involved as possible to create unique solutions that fuel innovation.
A significant part of the D&I branding effort has focused on how Tandem features their employees on their website. The "Team" page plays a much stronger role in the site than for most companies, and Tandem has done several things differently to foster a sense of diversity and inclusion. The first thing that visitors will probably notice is that the page isn't organized with the C-Suite at the top and lower-ranked team members as you scroll down. Instead, everyone is mixed together with the CEO and COO right in the middle so that leadership at the center, rather than the top, of the company. And each employee profile features an in-depth bio that helps potential clients and employees get to know the team, plus three photos including one featuring the employee's favorite hobby to further humanize the team members.
It's hard to overemphasize the importance of employer branding and featuring employees so heavily on the website. In fact, according to JC, branding and highlighting his team members has been the number one contributor to the increase in diversity at Tandem. One of the first things that people from underrepresented communities look at when they're considering a potential employer is what the team looks like. As JC puts it, "When they go to your site and see people who look like them and when they read their bios, they read things that feel like them, it immediately puts them in a different frame of mind in terms of how they view you as an employer."
The benefits don't stop at attracting diverse and talented employees, either. Another driver for Tandem's focus on their Team page and D&I branding is to celebrate their success in that area and the success of their team. Small-to-mid-sized businesses are ultimately just a conglomeration of their employees and it's important that both potential employees and clients see the people they're going to be working with and get a sense of what voices are going to be in the room. This can not only lead to productive partnerships but also prevent damaging missteps as it can drive away employees or clients who aren't a good fit. As far as Tandem is concerned, they don't want to work with employees or clients who do not want to work with a team like theirs, so the more public they make their diversity the better.
Tailoring the Employee Benefits Package for D&I
But branding can only go so far; the real measure of a business's diversity and inclusion is how they treat their employees. For growing businesses, especially in the tech field, who lack the resources to compete with major companies in terms of salaries and bonuses, this means tailoring their benefits packages to attract talent and build a diverse and inclusive team.
At Tandem, this started with a comprehensive and fully employer-paid insurance package that provides 100% coverage for employees and their families on all major health aspects: medical, dental, vision, and more. Just last year, they added a telehealth program so that employees can get access to medical advice more quickly and easily; a benefit that especially appeals to employees with children.
Tandem tailored its other benefits to accommodate people who have responsibilities that aren't tied to work, such as being the caretaker for aging parents or being parents themselves. They implemented a flexible time policy that lets employees set their own schedule as long as they are in the office for core work hours from 10:00am-4:00, give employees the option of working remotely one day a week, and allow employees to work from home on other days whenever the need arises. Despite being too small to be required to offer maternity leave under FMLA, Tandem also offers 8 weeks of new-parent leave for natural births and adoptions, on top of standard PTO. Having that flexibility and making sure that the flexibility is integrated into company policies and processes is an important step to support a diverse set of outside of work needs; another key element of D&I.
Tandem isn't ready to stop there, either. They are already exploring two new potential benefits to better foster diversity and inclusion: fertility and gender transition support benefits. While they are still looking into costs and proper structures and have not pulled the trigger yet, they believe that it is important to think ahead and look beyond traditional benefits to see what you can and should do to support a more diverse set of employee needs.
Ongoing D&I Efforts and Accountability
The final lesson that growing businesses can take away from Tandem's D&I success is that diversity and inclusion is a constantly evolving process and that it is important to reevaluate current practices to see if you're doing the right things and if are there new areas that you should explore. In fact, Tandem's CEO went so far as to say, "If I had any advice for other growing businesses it would be that D&I is not a one-and-done, 'check all the boxes' and then move on type of issue: you need to reexamine it on a continuing basis."
So what should growing businesses who are dedicated to promoting D&I do to monitor and reexamine their efforts? Tandem conducts bi-annual employee satisfaction surveys and the CEO has a one-on-one with every employee at least annually so that Tandem can be sure that it is maintaining its culture, that its employees feel engaged and included, and that any issues can be identified and corrected. JC also decided to create a Culture and Inclusion committee made up of a wide range of employees that meets every quarter to review current practices, discuss possible initiatives, and generally steer the direction of the company's D&I efforts.
This committee has been central to the successful integration of D&I into Tandem's brand and operations. It was responsible for raising the possibility of providing fertility and gender transition support benefits after it worked with Launchways to determine what the current insurance covered and what opportunities for improvement were left on the table. It also looks at the public face of the company to see if it is sending the types of signals to job candidates, such as reviewing job descriptions to see if they appropriately emphasize inclusion or use language that can be interpreted as exclusionary.
Tandem also recently completed an ADA study of their physical office space to get a sense of what they need to do to support people who need access to the building in different ways. And Tandem is planning on publicly releasing career paths, complete with requirements to move up to each position and salary ranges for every position, to encourage transparency and fairness both internally and for potential employees. This is significant, because transparency is absolutely vital to fostering true diversity and inclusion.
Key Takeaways
Every company is unique, and its approach diversity and inclusion should be as well. But Tandem provides a compelling model of how companies can put the principles of D&I at the heart of their employer brand, benefits strategy, and processes to build a diverse and innovative team. Hopefully, you can apply some of the lessons that Tandem has learned to fuel your business's growth. Just remember that:
• In addition to being morally right, diversity and inclusion is just good business and results in increased profits and business results
• Your employer brand defines how potential employees and clients see you, so making sure that it aligns with and celebrates diversity and inclusion can help you build an innovative workforce and productive partnerships
• Benefits are often the most concrete tool that employers have to foster D&I by accommodating a wide range of employee needs
• D&I is an ongoing process that requires constant reevaluation, accountability, and transparency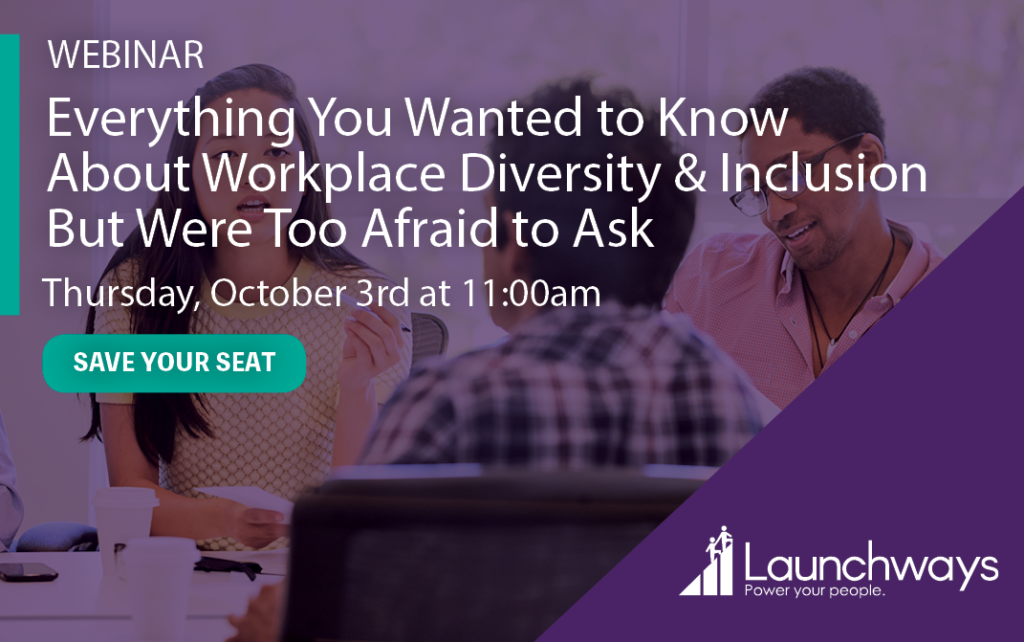 If you are interested in hearing more stories about diversity and inclusion like Tandem's and want to learn about D&I best practices, register for our D&I webinar coming up this October.