Today, after nine years in business, Taylor Group is excited to officially rebrand to Launchways. The rebrand includes the new company name, new logo, and new website. We believe our new brand better represents our core mission: to provide business leaders with the resources and guidance they need to build scalable people processes to support long-term growth.

Since 2009, we've focused on providing growing businesses with strategic solutions for human resources, employee benefits, and business insurance. To-date, we've helped thousands of companies better approach their people processes. With our new brand, we will remain relevant to the challenges our customers are facing, and relevant to the needs of growing modern businesses. We will continue to provide the highest level of service, while also bringing new and innovative solutions to market in a thoughtful way. Most importantly, we will continue to help our customers adapt to changing business needs and leverage innovative methods to streamline their businesses.
Our New Name and Logo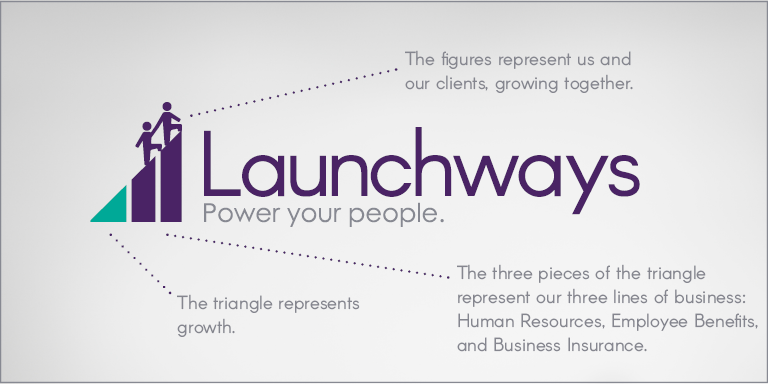 When changing our name, we wanted to pick a name which captured the forward momentum our customers gain when they work with us. We felt "Launchways" embodied our commitment to growth. Our new logo aims to capture our growth-mindset through a triangle resembling an increasing bar chart. We believe our new name and look better highlights the work we do: helping businesses grow.
Our New Tagline
Our new tagline "power your people," better captures our core mission to help businesses strategically approach their people operations.
We believe the businesses that get the people part right are the ones that succeed in the long-term. We help our clients transform their team into their greatest competitive advantage through our three lines of business:
• Human Resources: build scalable HR processes that unlock the full potential of your workforce.
• Employee Benefits: innovative benefits packages that thrill employees and make every dollar count.
• Business Insurance: comprehensive, cost-effective business insurance policies.
Our New Website
Our new website is a resource hub, packed with great content you can leverage to stay up-to-date on modern business practices, industry updates, and ways to continuously improve your business.
You can use the form below to subscribe to our blog to receive weekly content including blog posts, eBooks, checklists, and more.
We also encourage everyone to follow us on Facebook, Twitter, and LinkedIn to access all of our latest content.