Founded in 1957, The Spice House is a purveyor of the finest spices, herbs, blends, and extracts to customers ranging from renowned Michelin-star chefs to home cooks everywhere. They've spent over 60 years curating their global network of premium growers and distributors to offer their customers unrivaled quality and selection. Spice house is now the fastest-growing craft spice merchant in the Midwest, thanks to a booming eCommerce business.
Spice House started working with Launchways during a change of ownership amid a period of rapid growth. When a Private Equity firm initiated the process of buying Spice House from its original owners in 2017, they brought on Charlie Mayer as the company's new CEO. Immediately upon assessing the business' processes, Charlie knew that he had to overhaul the company's HR systems, payroll operations, and benefits to accommodate Spice House's growth and help it grow at an even faster rate.
While he considered working with a PEO, Charlie decided to work with Launchways instead because we offered customized solutions with the one-stop-shop appeal of a PEO. Our HR advisors were also able to provide expert guidance to Charlie and his team through the change in ownership and guide them through any challenges that arose during Spice House's continued growth. And unlike a PEO, we were also able to replace Spice House's existing business insurance, which could not meet the needs of a rapidly expanding eCommerce food industry company.
Because Spice House lacked any centralized HR systems, Launchways implemented an all-in-one HRMS platform that handles employee record-keeping, new-hire onboarding, time and attendance, and payroll using systems that could scale with Spice House's rapid growth. We also consolidated employee benefits to a single vendor, made benefits available to all Spice House employees, and increased coverage for health, dental, vision, life, and added a 401k at a cost-savings of 16% a year compared to their previous benefits package.
But one aspect of our partnership that turned out to have an extremely significant impact on Spice House's ability to continue to grow and succeed was our work revamping the company's business insurance. Their previous vendor refused to renew the company's coverage due to the change of ownership and rapid expansion, so Spice House needed a business insurance solution that would meet their current and future needs. Our insurance experts conducted an audit of the business and put together comprehensive and cost-effective coverage package that could scale as the company grew.
Little did anybody know how important that coverage would become to Spice House's future just two years later.
In early July 2019, a repairman sent by Spice House's landlord to fix the store's roof accidentally lit the roof on fire with a blowtorch. The response by the fire department was swift and effective but it wasn't enough to save the company's inventory as Charlie reports,
"The fire department put the fire out quickly but they used a lot of water, so everything on the floor and in the basement was ruined."
But the damage to the building was an even greater risk to his company's ability to stay open, let alone expand. If he hadn't had comprehensive business insurance, that Spice House location might have been driven out of business. But the coverage that Launchways had previously negotiated ensured that Spice House could weather the fire damage,
"In addition to having a significant loss in terms of our building and our product, we were closed for four months. Because we had business interruption insurance we not only recovered our lost income but we were also able to keep our staff employed through the interruption."
One reason why the store was closed for so long was the complexity involved in resolving the claim. Since the fire was started by a contractor hired by the landlord, Spice House had to navigate shifting liability between multiple parties.
The landlord had to get the contractor to pay for the damage to the building before they could begin repairing the damage, greatly increasing the amount of time that Spice House's store was closed. At the same time, Spice House's initial insurance adjuster worked extremely slowly and was eventually fired by the insurance company. Launchways worked diligently to get a new adjuster on the case immediately, and then worked hand-in-hand with that party to ensure the claim was paid out quickly.
Throughout the process, the Launchways team handled the communications between the different parties and insurance companies so that Spice House could focus on their business, as Tim Taylor, the head of the Launchways business insurance team, explained:
"Because the fire was caused by a third-party roofing company that was fixing the roof, we had to work with not only the landlord and the roofing insurance company but also our insurer. When there is a large claim like this, we check in twice a week with the end adjuster at our insurance company and also check in with our insured to make sure that they don't have any questions, that they know the timeline, and that they know when they can expect the money to be paid out for this type of a loss."
Launchways' hands-on approach made all the difference for Charlie, making a stressful and potentially costly process as easy and productive as possible,
"Having Launchways to talk to is kind of like having an older sibling who's been there before and can tell you what to expect. About once a week I would get on the phone with Tim and say okay, here's what's going on, is this normal, should we expect more, what can I do? And he would tell me what to do and occasionally take it upon himself to go figure out what was broken and get it fixed."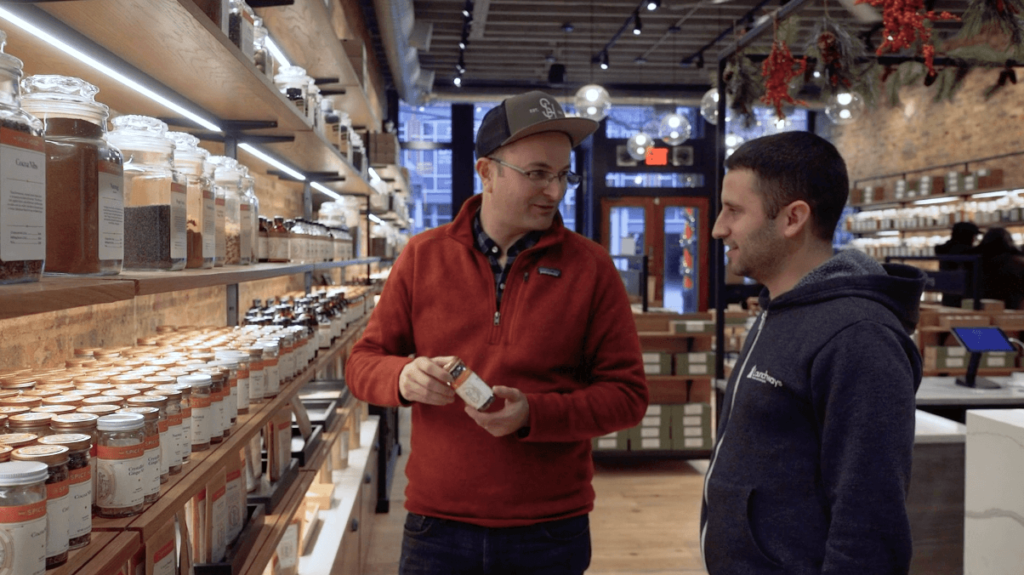 With Launchways handling communications with the insurers, landlord, and contractor, Charlie was able to focus on rebuilding Spice House's store better than ever.
"I'll never say that having a fire is a good thing but in the end, it was an opportunity to think about the store we wanted to have and to build that store. We had that opportunity because we had the right team together to help us recover and help us think about rebuilding. Tim gave us the confidence we needed to just proceed. When the process finally started to click, the fact that we had everything ready to go made it all work."
Now, Spice House is stronger than ever with a new storefront that fits their brand and is helping them grow even faster. This challenging chapter ended up fueling their business because they had the proper coverage and an active partner and consultant in Launchways. It's rare for a company's business insurance coverage to be put to the test as Spice House's has been and Charlie is more than pleased with the results. Going forward, he can run his business with more confidence than ever, knowing that Spice House can withstand anything that fate sends its way,
"I just don't lose sleep about insurance because you just need someone who understands the process who will talk to you honestly about what to do and that's what Launchways did for us."