Launchways is adjusting along with the rest of the world to comply with guidance from public health experts without sacrificing continuity of service for our clients.
We've always offered progressive work-from-home plans and evangelized for work arrangement flexibility for years, but we're still feeling many of the same pains as everybody else during this transition to a fully-remote team. Thanks to our team's adaptability, though, we've stumbled upon some powerful remote work practices, and we're happy to share those insights forward with other organizations looking for some resources and ideas to keep the work, team, and culture alive.
We're specifically excited to provide some actionable recommendations related to:
How we've adjusted the way we communicate to keep the work alive
How we've come together in new ways to keep our team spirit and company culture alive while practicing social distancing and maximizing everyone's safety and health
Leveraging a Powerful Online Communication Platform
Our first big question when we made the decision to decentralize was, "How can we keep positive, collegial interactions alive?"
Emails lack immediacy, and nobody enjoys going back and forth on a big "Reply All" thread. At the same time, texting each other felt like it worked in a pinch but lacked formality and connection to our actual work.
What we settled on was the Microsoft Teams platform, a communication and collaboration space that we can use as a chat board with built-in document sharing. We were able to segment the board to create a whole-staff conversation as well as team-level and project-based sub-boards.
Microsoft Teams also provides direct messaging, so we can get the immediacy and directness of a text message or verbal conversation with any of our co-workers at any time. This ensures consistent open lines of communication, avoiding the communication breakdown that can sometimes occur when teams work remotely for the first time.
Remote Work Without Sacrificing In-Person Meetings
Another tool we're leveraging more than ever is Zoom Meetings. We've used Zoom for several years to interact with clients and team members who were out-of-office, but now it's an application that's allowing us to continue our practice of face-to-face meetings.
When people have to look presentable and make eye contact with each other, it builds that invested professionalism that powers remote work and prevents the tune-out that eConferencing sometimes invites. After just a couple of meetings, we were impressed how readily our brains accepted this as the new norm, and we found that we were recreating the same exhilarating atmosphere that powers our usual in-office meetings.
Maintaining the Team Connection & Spirit
Doing great work as a group of remote employees isn't just about coming together to "work," though; it's also about building on the great team we've already created and continuing that culture in new, authentic ways. As we've always said, when people feel like they're part of a great culture, they do great work. The same goes for either full-time or ad-hoc remote employees.
Creating a Shared Work Experience
The COVID-19 pandemic has created a variety of awesome new home workspaces for members of the Launchways team, and we've had a lot of fun sharing them with each other. We've added a board with pictures of all our new "offices" so we can visualize each other's experiences, get a powerful sense of the human side of this moment, and have a few laughs along the way.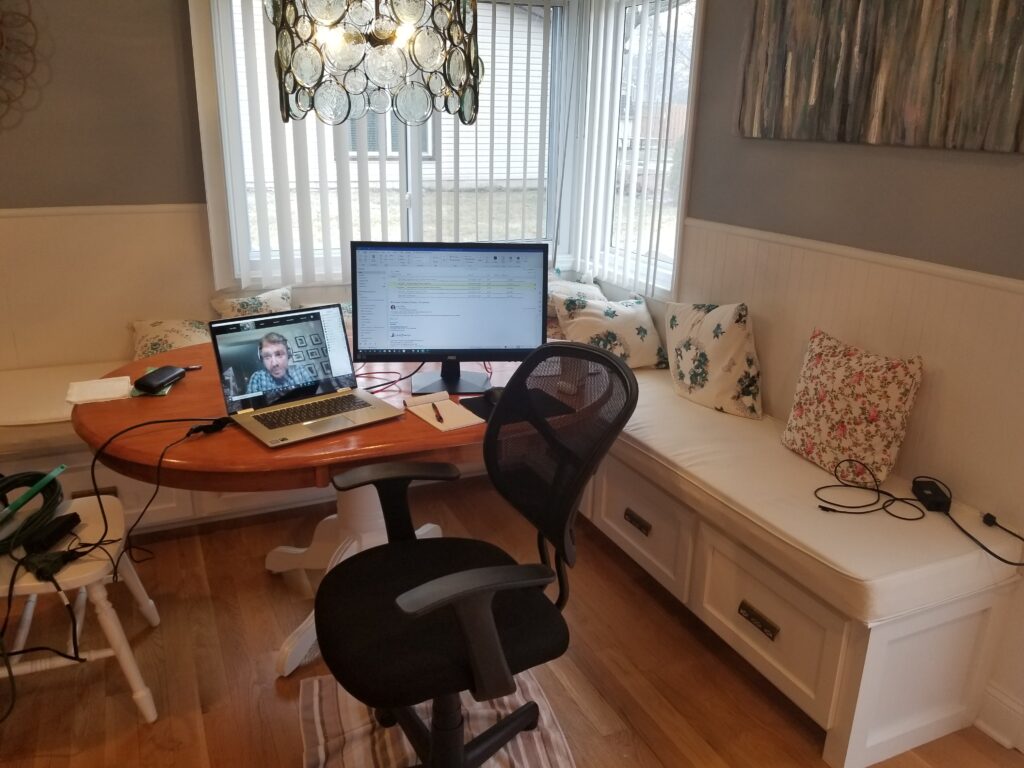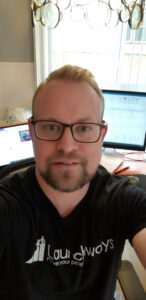 Company Care Packages
After we saw our team member's awesome at-home offices, we wanted to make sure everybody felt like their work was connected to our team and shared purpose, even if they were in sweats sometimes. That's why we sent everybody a care package containing Launchways-branded hoodies and t-shirts! We felt it was important to reach out to everybody in a fun, human way that reminds everybody that we all have more than one thing in common and we're all in this together.
Friday Happy Hours
Employers don't talk about this enough, but the social side of work is just as important to people's sense of accomplishment, community, and mental health as coming together to do great work, earn a living, and continue to keep each other and our families healthy.
That's why we're creating an online "Zoom Happy Hour" for Launchways employees each Friday. During this time, team members are encouraged to jump on an all-team video chat and enjoy drinks together, while still safely practicing social distancing. We're looking forward to relaxing together, enjoying a cocktail, and sharing a snack from the safety of our own home offices.
Takeaways
We're still in the relatively early days of the COVID-19 response, and there's a lot of work to do moving forward. At this time, however, it's important to have a strategy in place to address remote work enablement and employee communication. Remember:
Work enablement requires a communication framework that allows whole-group communication, team-specific discussions, and one-to-one conversations on the same platform

We're finding success with Microsoft Team for text-based communication and document sharing and Zoom for video chat remote meetings

Managing and maintaining a remote team for long-term success needs to address the human side of work as well and connect people in fun, authentic social ways