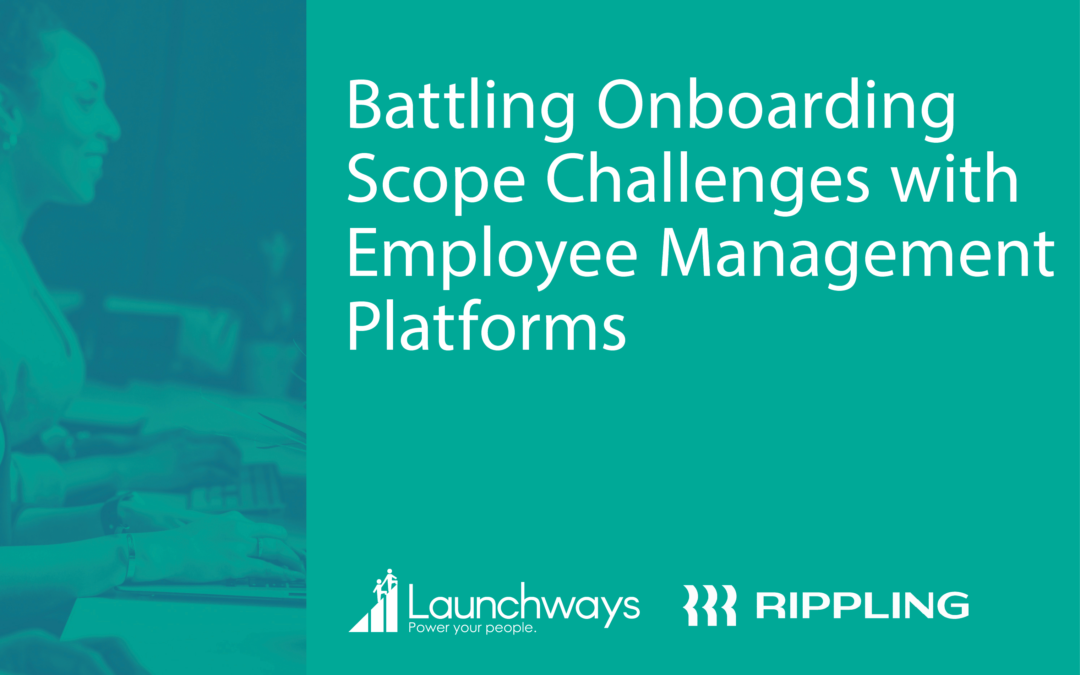 The flow of talent into and out of your organization has a direct impact on your ability to do great business and thrive. That means every organization should have a clear vision and thoughtful approach to new employee onboarding.
Unfortunately, for many businesses, onboarding has evolved into a major pinch point. It's become increasingly complicated, and it's rarely satisfying for either the new employee or the organization who's betting on their productivity.
Moving forward, we'll explore:
What new employees actually need to get started
Why the challenge of new employee onboarding/enablement has grown
How innovative employee management platforms address those challenges in effective and productivity-boosting ways
Breaking Down New Employee Support Needs
Let's start by considering your brand-new employee. It's their first day. They've got the talent and ability to be a difference-maker for you, and their enthusiasm will never be higher.
So, what do they need from you right away to feel authentically plugged in and ready to hit the ground running?
Let's take a minute to break it down, piece by piece:
Getting Paid
Payroll enrollment is one of the most basic and important aspects of employee onboarding. You need your new employees to see a clear, legitimate path to payment from day one.
When you get payroll enrollment right, it creates a highly satisfying experience that motivates your new hires to dig in, roll up their sleeves, and immerse themselves in the work.
If your new employee's first check isn't prepared on time or if the information on it is wrong, that creates a negative early impression for your talent, and correcting the issue will only cost them more time and effort.
Signing Up for Benefits
As with payroll, smooth employee-benefits enrollment is crucial to getting your new talent bought in and ready to do great work.
Benefits election actually contains several specific but unique challenges:
Providing a platform and experience that makes signing up for benefits clear and easy
Offering educational resources that help new talent make the best, most cost-effective choices
Getting that documentation from your employee to your insurance providers
There is an incredibly wide spectrum of knowledge and comfort levels with health insurance across the workforce, and even for great talent, making benefit elections can be intimidating. When you're able to make the process feel straightforward and empowering, it goes a long way in building buy-in and setting new hires up for success.
Work Enablement
Once your employees are enrolled in payroll and signed up for benefits, they're probably feeling pretty legitimate and excited about the journey they're starting. Capitalizing on that moment of enthusiasm is crucial, but it's not possible unless you have a strong hold on the actual work enablement piece.
What do employees need in order to do great work? For some, that depends specifically on their role within your organization, but there are a few general areas that you need to address for every new hire. 
Hardware
Every single employee within your organization needs technological hardware in order to do their job well, whether it's patrol trackers and communication devices for security guards, tablets for field service workers, company phones for sales professionals, or just the standard desktop and laptop computers many people need to get work done.
Of course, you can't just pass out expensive tech tools without a tracking and accountability system in place to ensure your hardware is kept in good condition and you know where all your devices are located. That means you've got the double-tough responsibility of getting your new hire everything they need as quickly as possible while also needing to focus on documentation.
Software/Accounts/Credentials
Passing out hardware is just the beginning of meeting your new employees' technological and work enablement needs. In order to be a fully functional member of the team, they need all kinds of accounts created.
Depending on the situation, that might require purchasing software licenses, creating new login credentials, and so on, but to give you a sense of how much really goes into technical work enablement now, each employee likely needs:
An email account
A login for company ERP/productivity platform
Standard office software licenses (word processing, spreadsheet creation, etc.)
Document sharing/collaboration portal credentials
Access to any relevant SaaS or cloud-based apps
FAQ Support
Alright, so your new employee is fully enrolled in payroll and benefits, they have been issued their company hardware, and they have all the accounts and credentials they need to get started. What's left? All the little stuff, of course!
No matter how smart or experienced your new hire, there are a variety of questions that are going to pop up in any new job scenario. The faster and more directly and effectively you can answer those questions, the faster your new hire will stop feeling like the new hire and start feeling like a fully-integrated team member.
That means you need some kind of reference resource built into your onboarding system that incoming talent can use as a floatation device during times of confusion or panic in their opening weeks. 
With that piece in place, you've officially onboarded a new hire in a way that supports great work and great organizational buy-in.
Why Is It So Hard to Get Employee Onboarding Right?
When you dissect it like we have, new employee onboarding is a massive responsibility, and the expanded use of technology hardware and software over the last 25 years has only made it more complicated.
Thanks to all those tech support needs, onboarding has grown into a shared responsibility of HR & IT. Unfortunately, though, the interdepartmental back-and-forth often leads to communication breakdowns, duplication of effort, and poor data hygiene.
Finally, a better way is emerging.
How Employee Management Platforms Address These Challenges
Employee management platforms are software solutions that integrate as many of the tasks related to employee onboarding and long-term employee management as possible into a single system.
Employee management platforms eliminate repetitive tasks, significantly streamlining the paperwork and communication associated with onboarding tasks and allowing for full new employee enablement in a single day.
Using an employee management platform, you can leverage a single system your employees can use to:
Enroll in payroll and benefits
Access, download, or log into the apps and software they need
Connect and communicate with their colleagues
Get answers to basic questions about employee protocol and support resources
At the same time, your managers, HR, IT, and payroll professionals can use the system to:
Assign and track hardware
Monitor employee time usage
Create (or disallow) credentials, accounts, and permissions as needed
Build and automate custom workflows between tools
Make updates to the system using a single source of truth
How Employee Management Platforms are Providing New Gains
By bringing all that management, administration, and work enablement functionality together in one place, employee management platforms create incredible time savings. That means more time for productivity!
When there's no repeat data entry and everything can be handled through a single platform, your HR professionals will have more time to provide a holistic, employee-centered onboarding experience that sets new hires up for success and leaves them feeling ready to take on the world for your company.
When you provide a platform that simplifies hardware assignment, it frees your IT team from the mindless tasks of device management and creates new opportunities for them to pursue long-term quality-of-life initiatives for your employees.
And, of course, when you provide a new employee onboarding experience that feels cutting edge, easy-breezy, and empowering, your incoming talent will have a greater sense of security, a greater sense of motivation, and a greater sense of purpose.
Takeaways
Employee onboarding procedures can feel like an endless list of equally crucial tasks. Employee management platforms are creating new opportunities to untie that knot and rethink onboarding.
Remember:
New employees need to feel legitimate and see a clear path to compensation from day one
New employees need their work tools as fast as possible to accelerate their integration into work and company culture
Onboarding can feel over-complicated because the responsibilities are spread out across several different departments
By all integrating the processes and tasks into a single system, businesses can maximize new employee onboarding and get the most out of their talent from day one
How to Learn More
Rippling is revolutionizing the onboarding process by helping HR professionals support their new hires better than ever.
By integrating all aspects of the onboarding process into a single digital platform, Rippling accelerates the new employee orientation experience, connecting hires with the tools, coverage, and credentials they need with a minimal number of clicks.

To learn more about how Rippling can smooth the employee onboarding process at your business and create a new way of managing HR and IT responsibilities, contact them today.